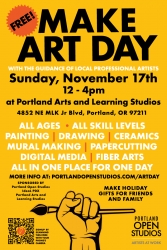 Portland, OR, November 09, 2019 --(
PR.com
)-- Portlandopenstudios.com/artday - Make Art Day (MAD) is a new event where anyone of any age or skill level can come and create a work of art with the guidance of professional artists. This is a free event created as a collaboration between Portland Open Studios, Ideal PDX and The Portland Arts and Learning Studios. On Sunday, November 17 from 12-4pm, the public is invited to come to the Portland Arts and Learning Studios at 4852 NE Martin Luther King Jr. Blvd., Portland, OR 97211.
Artists from a variety of local arts organization will be leading all comers in creating something artistic. There will be a clay hand building free-for-all led by artist Kim Murton, papercutting led by Liz Goss and David Friedman from the Guild of American Papercutters, Scott Conary will be teaching a wet charcoal drawing technique, Shanon Playford will helping people to paint on rocks in creative ways, Pepe Moscow's or Blind Insect will be teaching digital art using Wacom Touch sensitive screens, William Hernandez will be leading a mural painting experience, Leah Kohlenberg will teach drawing and Jessica Lagunas will be teaching collage.
All of this will be at the Portland Arts and Learning Studios run by Albertina Kerr. The Portland Arts and Learning Studios is a 10,000 square foot space where intellectually and developmentally disabled adults work during the week to create artworks which then are sold at their gallery and around the world.
For more information go to
http://portland open studios.com/artday
or contact David Friedman at 503-757-5595 or david@portlandopenstudios.com.