Trenton Technology Introduces TQ9 Graphics-Class Single Board Computer/System Host Board
The new Trenton TQ9 board is a PICMG 1.3 system host board (SHB) that offers a wide variety of multi-core processor options on a board with the extensive I/O support needed in today's complex system applications. The TQ9 board features the latest dual- and quad-core Intel® CoreTM 2 Processor & Intel® Q35 Express Chipset capability.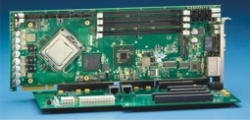 Atlanta, GA, April 16, 2008 --(
PR.com
)-- The TQ9 graphics-class system host board (SHB) is the latest addition to Trenton's industry leading PICMG® 1.3 product line. The TQ9 coupled with a PICMG 1.3 industry standard backplane can support multiple system designs that use the latest PCI Express™, PCI-X and PCI option cards. A TQ9 and a Trenton BPG6544 backplane supports PCI Express, PCI-X, PCI and legacy ISA option cards. Trenton's TQ9 and PICMG 1.3 backplane technology enables Trenton customers to take full-advantage of today's dual- and quad-core processors and PCI Express technology while maximizing system ROI by extending the use of legacy option cards.
The TQ9's x16 PCI Express link provides 3.5 times more bandwidth than an AGP8X interface and may be used to support PCI Express graphics and video cards, including the latest ADD2 cards. Other types of PCI Express cards, as well as 32-bit/33MHz PCI option cards, are supported directly by the TQ9 on a PICMG 1.3 compatible backplane. The TQ9 also supports 64-bit PCI and PCI-X cards on backplanes with the appropriate PCI Express-to-PCI-X bridge chip technology.
The latest dual- and quad-core Intel® Core 2 processors are featured on the TQ9. These processors are produced using a 45nm manufacturing process and offer key features such as a 1333MHz front side bus and up to 12MB of L2 cache. Pairing these latest Intel® processors with the Intel® Q35 Express Chipset and the Intel® ICH9DO I/O Controller Hub produces an SHB with an impressive feature set to tackle today's demanding computing applications. This component combination enables dual Gigabit Ethernet ports, twelve USB 2.0 interfaces, a built-in audio interface and a 8GB, dual-channel DDR2-800 memory interface. Dual SATA2/300 drive interface capability is supported on the TQ9 to enable RAID 0, 1, 5 or 10 storage array implementations.
"Trenton's TQ9 is our latest graphics-class PICMG 1.3 system host board and offers the edge-card segment of the embedded computing industry a platform built with the latest multi-core processing and PCI Express chipset technology from Intel®", said Bill Bowling, Trenton V-P and General Manager. "The combination of dual- and quad-core technology built into the Intel® Core 2 Processor family coupled with the Intel® Q35 Express Chipset and the Intel® ICH9DO I/O controller provides our TQ9 customers with a stable and validated high performance computing platform to meet their long-term application challenges."
Other TQ9 Features
The TQ9's LGA775 socket supports a wide variety of additional Intel® processor options. The front side bus on the TQ9 supports 800MHz, 1066MHz and 1333MHz processor options. Processors supported on the TQ9 also include the quad core Intel® Core 2 Q9550 and dual core Intel® Core 2 and Intel® Core 2 Duo, Intel® Pentium® Dual Core and the Intel® Celeron® processors.
The four DDR2 DIMM sockets on the TQ9 have a maximum capacity of 8GB. The dual channel memory interface supports non-ECC PC2-5300, or PC2-6400 DIMMs.
The x16 PCI Express and x4 links on edge connectors A and B of the TQ9 support PCI Express video and graphics cards and ADD2 cards. A new feature of the Trenton TQ9 enables customers to use the internal video connection on the SHB and simultaneously use the x16 PCI Express link as a general-purpose PCI Express interface to non-video PCIe option cards. The internal TQ9 video option is driven by the chipset's Intel® Graphics Media Accelerator 3100 feature.
The TQ9 supports a variety of PICMG 1.3 standard backplane I/O interfaces including a 10/100Base-T Ethernet LAN, and four USB 2.0 and two eSATA interfaces on edge connector C of the SHB.
The TQ9 supports the optional edge connector D defined in the PICMG 1.3 industry standard. Edge connector D provides a 32-bit/33MHz PCI interface to the backplane to support legacy 32-bit/33MHz PCI option card slots and PCI-to-ISA bridge chips. This capability is useful when it is cost prohibitive to design out an older or purpose-built ISA option card.
Pricing and Availability
The TQ9 is available now with a list price of $1,283 including a single-core processor and heat sink. Pricing and processor speed availability varies. Contact Trenton for the latest information on pricing discounts as well as volume and OEM purchase programs.
About Trenton
Technology Trenton is a specialized designer and manufacturer of system host boards, single board computers and backplanes for critical embedded computing applications such as telephony, imaging, instrumentation, control and others that require performance, precision and reliability. As an Associate Member of the Intel® Embedded and Communications Alliance, a community of communications and embedded developers and solution providers, Trenton has the development expertise to provide faster time-to-market designs for the applied computing marketplace. For more information about the Intel® Embedded and Communications Alliance, please visit www.intel.com/go/ica.
Trenton offers PCI Express, PCI-X/PCI/ISA and CompactPCI® products manufactured in the USA to ISO 9001:2000, CE and UL standards, satisfying the industry's increasing demands for features and performance. All Trenton Technology PICMG 1.3 products are backed by a full five-year warranty and Trenton's engineer oriented technical support.
For more information about their TQ9 single board computer or any other Trenton product, call (800) 875-6031 or (770) 287-3100. You can also visit their website at
www.TrentonTechnology.com
.
Intel, Intel Core 2, Intel Core 2 Duo, Intel Pentium, Intel Celeron are trademarks or registered trademarks of Intel Corporation or its subsidiaries in the United States and other countries.
PCI Express is a trademark of the PCI-SIG.
SHB Express and PICMG are trademarks or registered trademarks of the PCI Industrial Computer Manufacturers Group.
All other product names are trademarks of their respective owners.
###
Contact
TRENTON Technology, Inc.
Jim Renehan
770-287-3100
www.TrentonTechnology.com
Toll-free number in the U. S. at 1-800-875-6031

Contact
Multimedia
Detailed product specifications for the Trenton TQ9 single board computer.