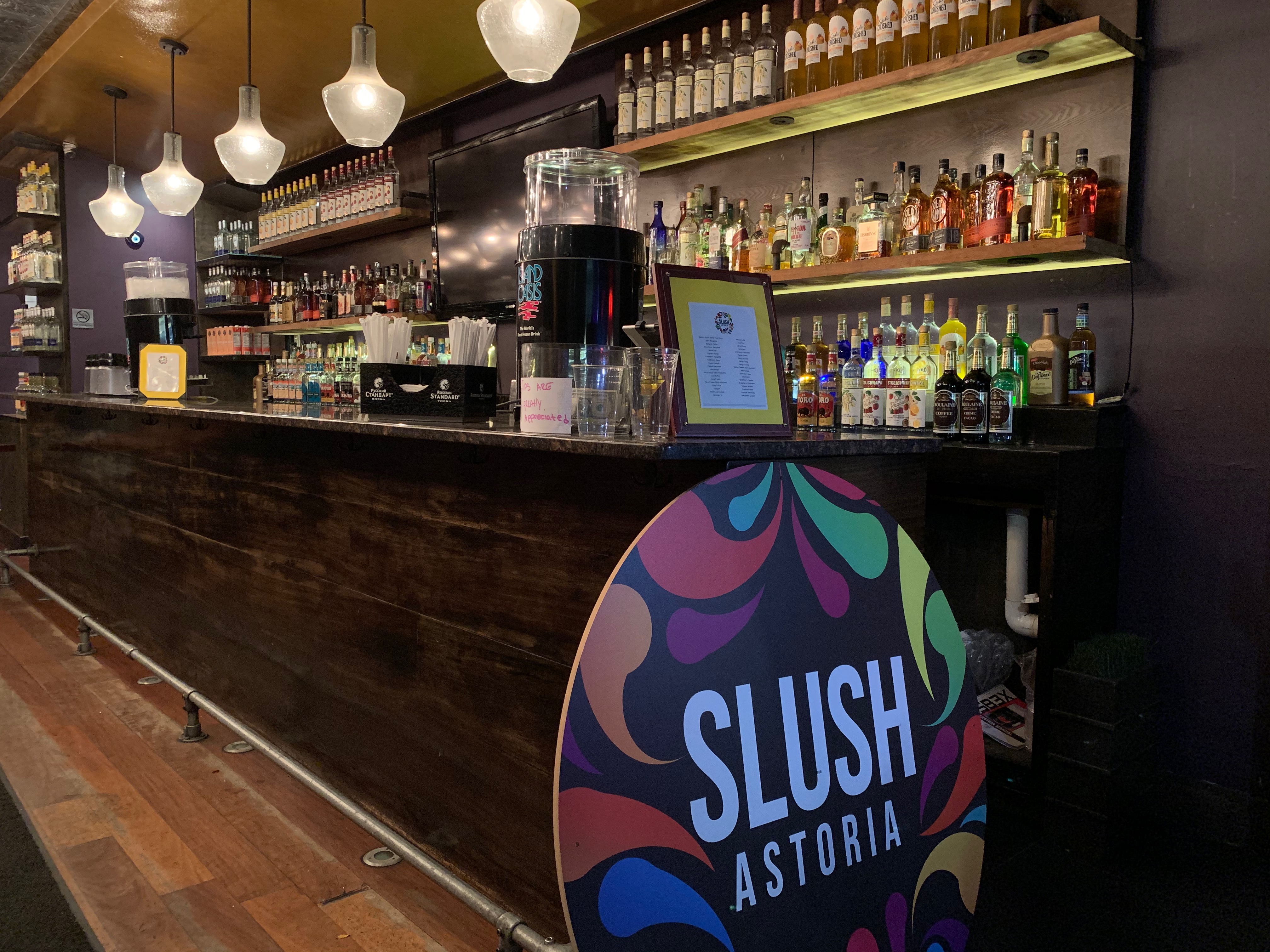 Astoria, NY, August 01, 2020 --(
PR.com
)-- Slush Astoria opens on 30th Avenue in the former Kurry Qulture space serving a wide array of slushee cocktails, fruit smoothies and coffee frappes.
The owners, Eric and Olga Scheidemann, a married couple from Whitestone, Queens wanted to offer Astorians and Queens natives a place to grab a refreshing retreat from a menus of hand-crafted slushees made from secret recipes.
"We craft the best summer refresher, a custom-blended boozie or fruity slushee at our new pop-up shop on 30th Avenue. Every slushee is made just for you, it's not some sugary mix that has been circulating in a dispenser for who knows how long. One sip and you'll taste the difference," said Olga Scheidemann.
The slushee menu will be ever-changing, with new concoctions featured weekly, but customers can count on these shaved-ice favorites: flavored margaritas and daiquiris, spiked lemonades, red and white sangria slushees and espresso-based frappes.
Some custom recipe slushees currently featured are: Coco Bango made from banana, mango and coconut rum; Rum Berry Sour made from raspberry, lemonade and rum; Electric Lemonade made from lemonade, vodka and blue curacao; Key Lime Pie made from ice cream, tequila and topped with graham cracker crumbs.
Alcohol-based slushees are presented in categories, making it easy to pick your favorite liquor, namely vodka, rum, tequila, whiskey/bourbon and gin, and turn it into a perfectly blended, smooth-as-silk dream in a cup.
Customers can even customize their own slushee, called the Astoria Slush, by choosing their favorite alcohol and mixing it with the fresh fruit flavor of their choice, including: banana, mango, passion fruit, peach, raspberry, strawberry and more.
For those who want to enjoy a slushee without spirits, all fresh fruit flavors can be blended without alcohol for the perfect virgin slushee, such as Mango Twister made from mango and lemonade; Coco Freeze made from strawberry and banana; and an espresso-based slushee that will be introduced next week.
To add to the fun, customers will be encouraged to take a "slush selfie" by posting their best crazed fan selfie on social media using the hashtag #slushselfie. Each week a winner will be randomly chosen to receive a week of free slushees (must be over 21 to enter).
Customers can pre-order and pay for their slushee on the Slush Astoria web site to make every visit quick and contactless, at www.slushastoria.com. Prices range from $7 to $16 depending on cup size and ingredients.
The Slush Astoria pop-up shop will remain open through October. Slush Astoria is located at 36-05 30th Avenue between 36th and 37th Streets with hours of operation of Monday through Friday 5pm to midnight and Saturday and Sunday from 12pm/noon to midnight.
About Slush Astoria:
Slush Astoria, located on Astoria's famous 30th Avenue, is a pop-up shop offering a premium collection of freshly handcrafted, delicious frozen slushees. From frozen cocktails and dessert drinks to our barista fria and non-alcoholic fruit slushees, there's a tasty retreat for everyone at Slush Astoria. "We promise to make every brain freeze totally worth it."
Web Site:
https://www.slushastoria.com
Drink Menu:
https://www.slushastoria.com/s/order