Jim Hughes and Royce Gracie New England MMA Host College MMA Challenge Championships Friday June 13 at The Log Cabin in Holyoke MA 6:00 pm
The end of the school year brings the College MMA Challenge Championship to the Log Cabin in Holyoke Mass.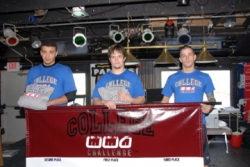 Holyoke, MA, April 24, 2008 --(
PR.com
)-- Jim Hughes Promotions LLC & Royce Gracie Brazilian Jiu Jitsu Self Defense and MMA, and
www.gracie-jiu-jitsu.com
, in cooperation with the Log Cabin and Delaney House Meeting and Banquet presents:
Live the Legend MMA Challenge and College MMA Challenge Finals Ultimate College Fighter & US MMA Open Championships at the Log Cabin Friday June 13, 2008 6:00 PM
Which College will reign supreme? Who is the toughest? Who has the most fighting spirit? Who is the Ultimate College Fighter?
"You've been watching college athletes take each other on in Football and Basketball for years. But when it comes down to real life battles, who is really the best of the best? See for yourself as the top College Mixed Martial Art fighters square off in an all out action packed MMA show that will determine this seasons winner of the College MMA Challenge Finals Championship. Which College reigns supreme? Who is the Ultimate College Fighter? Come see for yourself and support your college competitors" says promoter and Brazilian Jiu Jitsu Black Belt Jim Hughes.
Perry Siegel, Event Director adds "This is history in the making as the first and only MMA venue for College MMA Athletes. As part of the evening, The Live the Legend MMA Challenge US MMA Open ™ Division, for non-college student MMA fighters, will be held to determine the season finals. It's two shows in one! Friday June 13, 2008 for an action packed evening of fight entertainment."
Is there more? Yes there is more. A lot more. This night includes the best cuisine and the most extraordinary meal you will ever enjoy. "We are sorry, you will never be the same after this experience," says Mr. Hughes. Your going to want to move in to the Log Cabin. But you can't. This ain't your great grandaddy's log cabin. It is something different. It is the most elegant banquet and ballroom meeting facility in New England. Executive Chef and Owner Mick Corduff says "Come and enjoy the show. Eat until you are content. Enjoy some drinks with your friends, make some new one's, and get to know your college and open division fighters up close and personal. Enjoy an open gourmet evening banquet from around the world. You have to go home at the end of the night, but you will come back over and over, guaranteed!"
The promoter is celebrating mixed martial arts which can be traced back to warriors from every culture by bringing a sampling of the dishes from many parts of the world where these fighting arts originated.
Executive Chef Mick Corduff loves the fighters and the fans. He is busy pulling together a great World Gourmet Menu. "Remember," Says Mick, "This is Father's day weekend. This event is just right for fathers, sons, grandfathers, and uncles. But listen, its not just for men. Ladies, men love women who love MMA." Beth DeGray, Director of Sales at the Log Cabin - Delaney House Meeting and Banquet facility, and expert wedding planner and consultant says, "Treat your man to an amazing meal and a night of action packed entertainment that will make you, and him, want to come back for more."
Space is limited and these events sell out fast. Ticket information can be found by going to
www.logcabin-delany.com
###
Contact
Oasis
Judy Mulkern
860-233-3000
http://www.gracie-jiu-jitsu.com

Contact