Sprechen Sie Deutsch? Join the German-Speaking Family Club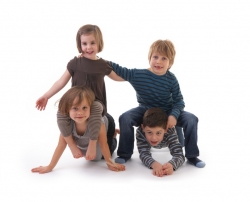 Whittier, CA, April 29, 2008 --(
PR.com
)-- The German-Speaking Family Club is an outlet for German-speaking families with children. It's an active group of families that regularly meets in Brea, Fullerton, La Habra, La Habra Heights, La Mirada and Whittier. They regularly conduct playgroups, host family events and are a resource for German-speaking families in Southern California. Membership to the family club is free. However, there needs to be at least one German-speaking parent in the family to qualify. This is because the club aims to reinforce the language skills taught to child(ren) by the German-speaking parent(s).
"We are a social network for German-speaking families to come and speak their family language in the comfort of other German-speaking families around them. This, of course, is especially important for families that want to bring up bilingual children," says Glory Hammes, the club leader.
Glory Hammes is American, raised in Santa Monica. She is fluent in German, as she lived in Germany for several years. "My husband is German and before our son was born, we decided that German would be our family language. After looking at the studies done on bilingual children, we saw it as an opportunity to raise our son with two languages," says Hammes.
Early language immersion improves overall academic achievement. It enhances brain development, memory and cognitive learning. Scientific research has shown that foreign language learning increases social awareness and achievement in basic skills such as communication and listening. Bilingualism promotes awareness, appreciation, and acceptance of other peoples and cultures. Furthermore, it prepares children to participate more fully in the global community.
Bilingual families need support networks for their family language. In fact, building a support network is probably the most underestimated success factor in raising bilingual children. Bilingual families can benefit from exchanging information about teaching techniques and gather new ideas from. It also ensures future play dates that will provide children with the ultimate language teachers - other kids.
"Spanish is very common in California, but German isn't. So when people hear us speaking German, they usually ask 'What language is that?' The club has really helped us to feel more 'normal' and is awesome for the kids," says Hammes.
If you are interested in joining the German-speaking Family Club, call (562) 252-3830 or visit
www.deutschsprachig.com
.
###
Contact
The German-Speaking Family Club
Glory Hammes
5622523830 x 303
www.deutschsprachig.com

Contact