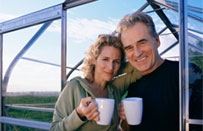 Buffalo, NY, May 09, 2008 --(
PR.com
)-- Scott OBrien introduces Healthy Coffee from Gano Excel to Coffee Drinkers in USA and Canada.
Gano Excel offers the world's first Healthy Coffee. Gano Excel started in 1996 and is a World Wide Company with warehouses in over 40 countries and has just been recently introduced to USA and Canada.
Why Coffee? Following Information from www.GanoExcel.us (Corp Website)
· Coffee is second only to oil as the most highly traded commodity and export in the world.
· With consumption exceeding tea and sodas combined, coffee is second only to water as the world's most popular drink – 1.4 billion cups served daily.
· 2.4 billion pounds of coffee are sold per year in the United States, representing 1/3 of all coffee exported.
· The world's largest consumers, 4 out of 5 Americans drink a total of 400 million cups daily.
· Canadians drink over 15 billion cups of coffee per year, making coffee Canada's favorite hot beverage.
What is Healthy Coffee?
Healthy Coffee is a Healthier Alternative for Coffee Drinkers. You still get the aroma and the taste of a delicious cup of coffee, but Healthy Coffee is drenched in health-giving nutrients with every sip. Healthy coffee has just arrived North America. 4 out of 5 people in USA & Canada drink coffee and many of those people consume 4-5 cups per day. Coffee is considered to be the choice of beverage enjoyed most.
Healthy Coffee from Gano Excel gives the gourmet taste without the hefty price tag. Healthy Coffee from Gano Excel, featuring a unique blend of ganoderma, well-known in Asian medicine as the "King Of Herbs," has a simple approach... rather than trying to get coffee drinkers to change their habit of consuming so much coffee, they are using coffee as a delivery mechanism to provide good health and nutrition.
With Healthy Coffee from Gano Excel You Will:
· feel that great coffee boost without the usual coffee letdown
· support your immune system
· promote a good night's sleep
· help maintain a healthy body
· reduce mental and physical fatigue
· promote longevity with ganoderma's unique anti-aging properties
· and help cleanse your body with every sip
You no longer have to suffer the negative side effects of regular coffee again. Free your body and enjoy your health with the first ever healthy coffee.
More Than Three Million Customers Outside North America Already Know How Healthy Coffee can significantly improve your health.
One sip and you'll know…everything else is just coffee. And just wait until you discover Gano Excel's other health promoting beverages like Tea, Hot Chocolate, Mocha and more all provided in convenient single serving packets.
Healthy Coffee has been changing millions of lives for over a decade elsewhere in the world. With thousands of years of proven documented science behind their ganoderma extract, it's no wonder Gano Excel achieved over $500 million dollars in sales outside of North America in the year 2006 alone.
Healthy Coffee comes to North America for millions of coffee drinkers to experience.
Gano Excel will actually pay you to help spread the word about Healthy Coffee. Coffee drinkers starting a Home Based Business with Gano Excel and Healthy Coffee right now is an example of being in the right place at the right time. There are millions of Coffee drinkers in USA and Canada and hardly anyone in these two countries has ever even heard of Healthy Coffee from Gano Excel yet.
Network marketing will never be the same. By combining two time-tested and proven compensation elements, Gano Excel has created a whole new compensation category simply identified as the UniFlex™ Compensation Plan. Industry experts will wonder why someone didn't apply this concept before. It's so simple, yet sophisticated beyond expectation.
A Simple and Friendly Marketing Approach to Financial Freedom
· A simple "try-it-you'll-like-it" marketing strategy.
· Products carry a 100% consumer satisfaction guarantee.
· Health-promoting coffee uses habits rather than changes habits to improve health.
· No overhead required to get started.
· Initial marketing efforts generate monthly residual incomes.
· Incentives include dream vacations to exotic destinations.
· A ground-floor opportunity exists in North America.
If you drink coffee, why not drink a healthier coffee. Healthy Coffee from Gano Excel just make sense. Scott OBrien wants to introduce Healthy Coffee to you and help you feel healthier and get paid doing so.
To see how Healthy Coffee can change your health, visit www.HealthyCoffeeBuzz.com and see Joan Maximuik's Healthy Coffee Story. To learn more about Healthy Coffee from Gano Excel; be sure to contact Scott OBrien today.
###