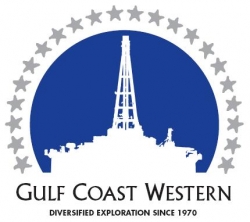 Dallas, TX, May 14, 2008 --(
PR.com
)-- Gulf Coast Western, LLC has announced that it will partner with Ventum Mandalay, LP, a partnership of Ventum Energy, LLC and Mandalay Oil & Gas, LLC, to drill the Gibbstown Bridge prospect in Cameron Parish, Louisiana. Gulf Coast Western has agreed to take a 45% working interest in the initial well, with potential reserves of 36 billion cubic feet of gas and 3.6 million barrels of oil.
"The teams of geologists, geophysicists, engineers and land men at Mandalay and Ventum have done an outstanding job of identifying this prospect," said Gulf Coast Western CEO Matthew H. Fleeger. "We expect to start drilling the Gibbstown Bridge prospect next month and have very high expectations for its success."
The Gibbstown Bridge prospect was identified within a few miles of the Chalkley Field, a large discovery made by Exxon in the early nineties. The Gibbstown Bridge prospect has surrounding production which exceeds 90 MMBOE to date. Gulf Coast Western currently has multiple wells drilling and expects to commence drilling on three additional prospects by the end of June.
"We have significantly increased our drilling budget this year to take full advantage of the excellent oil and natural gas price climate and our aggressive pursuit of strategic partnerships with the best E&P companies in the industry will result in other great opportunities in 2008 and beyond," said Matthew H. Fleeger. "Our relationship with Sterling and now Ventum Mandalay is laying a great foundation for a very successful 2008."
Gulf Coast Western, a Dallas-based company founded in 1970, is focused on the exploration, development, and acquisition of domestic oil and gas reserves.
###