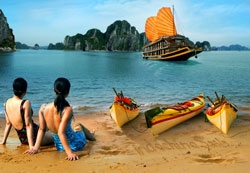 Halong Bay, Vietnam, May 15, 2008 --(
PR.com
)-- Ha Long bay is very picturesque with many magnificent landscapes and seascapes. Nowadays it sparkles even more with the appearance of big sea sails printed with the letters Indochina Sails.
In the immense atmosphere permeated with sunlight and wind, one suddenly feels lonely. In the distance, ranges of mountains emerge from the sea.
The Indochina Sails cruise ship moves gently towards Bai Tu Long Bay.
In the luxurious dining room, every one looks out through the big windows. The European and Asian dishes are delicious, prepared by outstanding chefs and served up by a professional staff. The cruise ship moves out towards the centre of the bay. Hon Trong Mai (Male and Female Chicken island) appears before us. This island attracts a great number of visitors and is the pre-eminent symbol of Vietnamese tourism.
Vung Vieng fishing village is more beautiful in the weak sunlight of dusk. The Indochina Sails cruise ship drops anchor so that tourists can visit the village. The sunlight gleaming on the sea looks like an oil painting, but is formed entirely by the hand of nature.
Staying overnight on the Indochina Sails cruise ship is a memorable experience. This is not only because one floats in one of the most remarkable natural wonders of the world. It is also due to the cozy and luxurious cabins on Indochina Sails cruises. Though the buffet has finished, everyone wants to stay on deck and enjoy the stunning scenery. The melodious light music, played in the traditional style, creates an unforgettable atmosphere.
Further information:
- Indochina Sails are the newly built wooden junks designed in the contemporary traditional Vietnamese style
- The cruise ship has spacious cabins and suites with large private bathrooms, a big sun deck, elegant dining room (32 seats), bar, beauty spa, massage, kayaking and entertainment. This luxury is enhanced by the professional manner of the friendly and enthusiastic management and staff.
- At the present time 3 Junks are operating in Halong Bay, namely Indochina Sails I with 14 cabins, Indochina Sails II with 15 cabins and Valentine with 5 cabins. By the end of October 2008 an addition to the fleet is expected, namely Indochina Sails III with 15 luxury cabins.
*Services:
- Excellent local cuisine
- Vietnamese and International buffets
- International Wine and Drinks List
- Daily light Music Performances
- Cruise Itinerary and Program
- In-house English speaking Tour Guide
- Kayaking and Snorkeling
- Movie nights, Board Games and night fishing
Summer Promotion from 1st to August 30th, 2008:
For US$180/person/twin shared, you can stay in a luxurious cabin of Indochina Sails on Halong bay. The package includes shuttle bus return from Hanoi to Halong bay, kayaking on Halong bay, entrance and sight seeing fees, Vietnamese buffet lunch and dinner, International breakfast buffet, you can also enjoy BBQ seafood dinner and the International wine tasting with a wide selection of wine from Spain, Chile, US and Italy. More information http://www.indochinasails.com/indo-Special__Summer_Promotion_on_Halong_bay.html
Supported by ActiveTravelVietnam.com & ActiveTravelShop.com
###