Roe Couture DeSaro Honored as Woman of the Month for March 2022 by P.O.W.E.R (Professional Organization of Women of Excellence Recognized)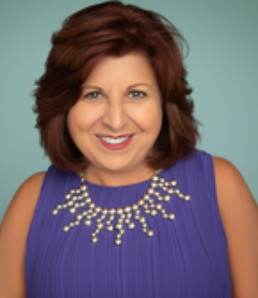 Holmdel, NJ, March 30, 2022 --(
PR.com
)-- Roe Couture DeSaro of Holmdel, New Jersey has been honored as a Woman of the Month for March 2022 by P.O.W.E.R. (Professional Organization of Women of Excellence Recognized) for her outstanding achievements and contributions in the fields of business and women's empowerment. Each month P.O.W.E.R. features women to represent their professions and industries due to their expertise and success in their chosen specialty.
About Roe Couture DeSaro
Roe Couture DeSaro is a keynote speaker and founder and CEO of Gutsy Gals Get More, LLC. She works with women leaders and business owners globally in regards to peak performance, leadership development, transformational coaching and business mastery.
DeSaro learned at an early age that if you speak up and say the truth, you can have what you desire. In seventh grade she convinced her school that she didn't belong in the class of under-achievers, and she was put in the smart classes. By the time she was 30 years old she broke three glass ceilings for women at a major Wall Street Firm by speaking up and maintaining her feminine essence. She built a million-dollar stock trading business in the 90's as the only female partner. Then, she lost it all after 911 and had to start all over again.
As a successful businesswoman and corporate executive, Roe realized that most women lose their identity and their feminine superpowers trying to fit into an old, outdated leadership system of success. She started Gutsy Gals Get More, LLC to motivate women to be leaders that embrace their authentic powers so they can have it all and inspire others along with them.
"I help women to know how and when to not take no for an answer and get what they want, get out of their own way, speak up, speak their truth, know their worth, make a huge impact and income so they can be the woman they were meant to be and have total fulfillment without the sacrifice," said DeSaro.
DeSaro works with clients one-on-one and also offers "Gutsy Gals women's circles" and group coaching, transforming women to stop self-destructive judgment, self-doubts, fears and more. She encourages women to take risks, to create a profitable business that they love and charge what they are worth. As a Money, Marketing & Soul Certified Coach, 4-time best-selling author, popular speaker, and successful entrepreneur, DeSaro's mission is to help women be strong, powerful, feminine, and authentic.
Born August 13, 1957, DeSaro received her B.S. in Psychology from Stony Brook University in 1979. She is a TEDxHobokenWomen Speaker 2018, and the recipient of numerous awards including the ATHENA Leadership Award 2021 Finalist in November 2021; the Inspired Leader eWomenNetwork, Inc. in July 2018; the Women Empowerment Award from the Community Affairs Resource Center in May 2017; the ATHENA Leadership Award 2016 Finalist in September 2016 and the Business Ambassador of the Year Award 2016.
At home, she is a fun-loving wife and inspiring mother of a daughter and son, who are young adults. She enjoys supporting both of her children, her daughter with her non-profit, Light to Earth Sanctuary, working with women and children, and her son, an aerospace engineer working with satellites in space. She is also involved in her church leadership development committee.
For further information, contact Roe Couture DeSaro - Public Figure - Owner, Gutsy Gals Get More, LLC | LinkedIn
About P.O.W.E.R. (Professional Organization of Women of Excellence Recognized) and powerwoe.com
P.O.W.E.R.-Professional Organization of Women of Excellence Recognized is an organization and an online community. P.O.W.E.R. Magazine is a digital and exclusive print magazine featuring celebrities and everyday hardworking professional women. Our mission is to provide a powerful network of women who will mentor, inspire, and empower each other to be the best they can be. Through our valuable services and collaborating with like-minded professionals, our members can potentially gain the recognition and exposure they deserve, as well as obtain knowledge from those who have already achieved success.
Contact
P.O.W.E.R. (Professional Organization of Women of Excellence Recognized)
Geri Shumer
516-365-3222
www.powerwoe.com
Ellen Gold

Contact