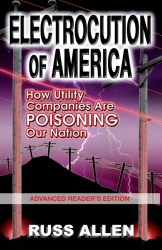 De Pere, WI, May 16, 2008 --(
PR.com
)-- Stray electric utility currents are a major source of pollution in North America. While big businesses are often to blame, the ramifications of stray electricity on the environment are resulting in the deaths of millions through commonplace occurrences.
Stray current can interfere with living creatures—pets, farm animals and human beings—as well as bioelectric systems, causing current to flow through anything that can conduct electricity, including metal, water and even flesh.
"The true cost of corporate greed is borne by our nation's farmers," says Russ Allen, author of the riveting new book Electrocution of America: Is Your Utility Company Out to Kill You? "The issue of stray electrical current is a huge problem that needs to be rectified."
Stray electricity affects millions of Americans daily, according to the Institute of Electrical and Electronic Engineers (IEEE), through several sources:
• Copper floor and wall piping in showers
• Transformer connections by swimming pools
• Sidewalk carrying current through the ground
• Concrete in basements and backyards
In the heartland of America, the threat of stray current may be one of the best-kept secrets and most-overlooked hazards, according to numerous safety specialists. Instead of trying to solve the problem, however, utility companies are spending millions of dollars on defending themselves in court.
Electrocution of America: Is Your Utility Company Out to Kill You? tells the story of Mr. Allen, a Wisconsin dairy farmer, who discovered that stray current was the cause of the mysterious illnesses and deaths that plagued his cows.
When the utility refused to acknowledge its guilt and mitigate the damages, Mr. Allen decided to sue for damages in court. The case went on for months, but in the end, Mr. Allen won a multimillion-dollar settlement. Now, he is a leader in the movement against the electrical pollution of animals.
"Our government needs to do more than accept the utility companies' bribery money and turn the other way," says Mr. Allen. "Rules have to be put in place to rewire America and fight stray electric current to its end. Our farms, our livestock and even people on the street are being electrocuted every day by big business."
Electrocution of America: Is Your Utility Company Out to Kill You? can be found on Amazon.com, BarnesandNoble.com, Borders.com, PriceGrabber.com and Ecampus.com.
For more information, contact the author directly at allen4568@sbcglobal.net.
Glenmore Books and author Russ Allen chose Arbor Books (www.ArborBooks.com) to design and promote Electrocution of America: Is Your Utility Company Out to Kill You? Arbor Books is an internationally renowned, full-service book design, ghostwriting and marketing firm.
(Electrocution of America: Is Your Utility Company Out to Kill You? by Russ Allen; ISBN: 0-9779685-0-2; $22.95; softcover; 5½" x 8½"; 406 pages; Glenmore Books)
###