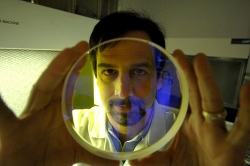 Hauppauge, NY, May 20, 2008 --(
PR.com
)-- Hard work and dedication come to fruition this May 25th, 2008 when the Phoenix Mars Lander finally lands upon the Martian surface. The Lander's cameras carrying sensitive, special coated lenses were designed and manufactured by Anthony Pirera, owner of Spectrum Thin Films, a high technology coating laboratory located in Hauppauge, NY. Anthony Pirera's coatings and design afford the Mars Lander a spectacular view of Mars topography, enabling it to send those awesome pictures back to earth. The Mars Phoenix lander will land on Mars this May 25th, 2008, and Anthony Pirera is proud to have been a part of it.
Anthony Pirera was also recently awarded a bid enable him to work with the James Webb Space telescope, An amateur astronomer and long time member of The Astronomical Society of Long Island, is one of the few and fortunate, who's hobby encouraged him to launch and grow a successful Long Island coating lab that keeps him within reach of what he loves doing best.
The recent acquisition of a 2.2 million dollar building in the Hauppauge Industrial area gives Anthony Pirera the opportunity for growth, expansion, and the the advantage of a larger facility for continued growth and for handling larger projects. STF hopes to garner more of these exciting projects, and keep aerospace business on Long Island.
Spectrum Thin Films Inc. has qualified for the ISO 9001:2000 certification. The company is expected to be awarded the certificate in June 2008. Nominated by Inc 5000's "Fastest Growing Private Companies in America, it was founded in 1993, Anthony Pirera, now employs 32 employees, and anticipates the company will employ about 40 employees before the end of the year.
Anthony Pirera nominated for Strathmore's who's who 2007, new member of the Hauppauge Industrial Association, Board member of the Astronomical Society of Long Island, Member of SPIE, PIANY, and president of the Long Island Chapter of the Optical Society of America.
Photo credit: Daniel Goodrich/Newsday
###