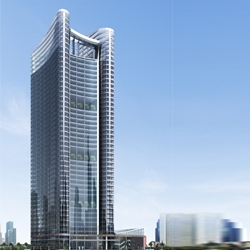 Kuwait, Kuwait, May 22, 2008 --(
PR.com
)-- KEO International Consultants has been notified by the U.S. Green Building Council that the 1.2 million sq. ft project, Sabah Al Ahmad International Financial Center has been officially registered with the U.S. Green Building Council (USGBC) and is now pre-certified to get Kuwait's 1st LEED certification.
With their deep commitment to the environment, the client, 'Securities House for Real Estate Co.' and the developer 'AlShaab Real Estate Co.' gave KEO the incentive to pursue a sustainable design using guidelines and tools outlined in the Green Building Rating System in late 2007. In addition to creating an iconic 40 storey tower consisting primarily of high end offices and hotel, KEO was given the task of achieving a LEED® Gold rating under the core & shell rating system from the U.S. Green Building Council (USGBC). Besides meeting or exceeding a series of 'green requirements, the tower employees a series of wind turbines and PV panels to provide a renewable source of energy.
The design solution translates the client's brief for various programs into 4 stacked courtyard atriums ranging from 8 floors to 13 floors each. Three of them accommodate office floors while one accommodates a 4-star Business Hotel which will accommodate 200 rooms. A separate 800m2 Trading Hall on the ground floor will accommodate 24-hour trading for the facility. The sculptural shape of the tower induces wind at the top of the building where wind turbines are specially positioned to generate power for the building.
###