The Northeast Regional Epilepsy Group's (NEREG) Seventh Annual Conference (Virtual) on Treatments for Psychogenic Non-Epileptic Seizures (PNES) on May 29, 2023
This event is part of the ongoing NEREG Psychogenic non-epileptic seizures (PNES) Awareness Campaign to promote education and visibility for this critical health condition.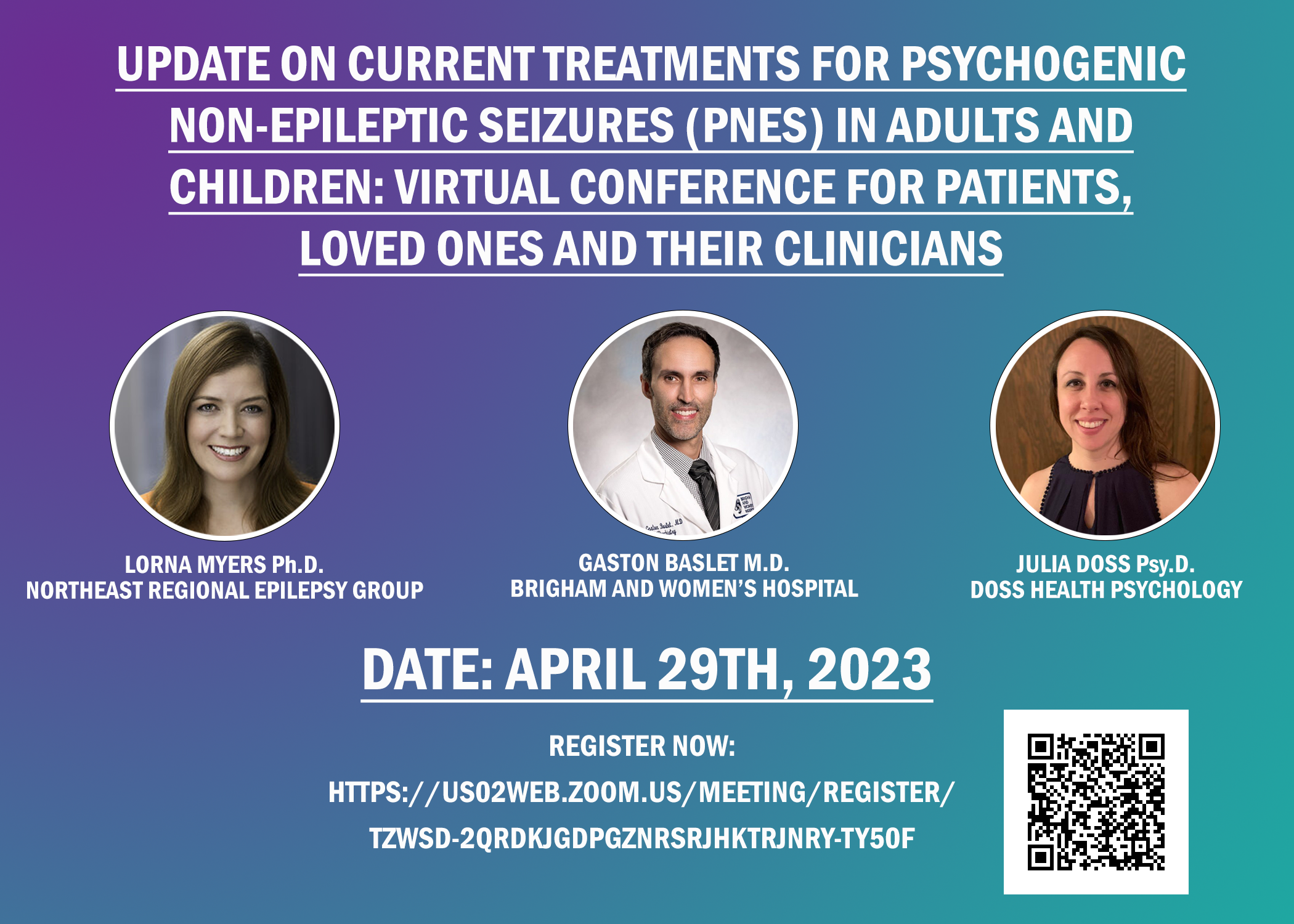 New York, NY, March 16, 2023 --(
PR.com
)-- Psychogenic Non-epileptic Seizures (PNES), also known as dissociative seizures is a health disorder that can have devastating effects on those who develop it. Patients with this condition experience seizures that look very much like epileptic seizures, but these are not produced by electrical anomalies in the brain but rather by emotional and physiological dysregulation and a history of psychological trauma is a common risk factor. It is estimated that the numbers of persons suffering PNES may be greater than those affected by multiple sclerosis, but most people have never heard about PNES.
Dr. Lorna Myers, Director of the Northeast Regional Epilepsy Group's Psychogenic Non-Epileptic Seizures Treatment Program and principal investigator of a randomized controlled trial for patients diagnosed with PNES and post-traumatic stress disorder, commented: "PNES is a very serious psychological disorder that can lead to permanent disability if not treated in a timely manner. Unfortunately, not many mental health clinicians feel prepared to treat it and patients often feel lost before and after receiving their diagnosis. After a 3-year hiatus due to the pandemic, we are proud to offer our seventh (now virtual) educational program on how to treat PNES in adults and children." Guest speakers include experts in PNES such as Dr. Gaston Baslet of Brigham and Women's Hospital, Dr. Julia Doss of Doss Health Psychology and Dr. Lorna Myers of NEREG.
This educational program is meant for patients, loved ones and health professionals alike. It is free of charge.
The conference is taking place on May 29 from 9:00-12:45PM through Zoom. To learn about the program and to register:
Or:
https://epilepsygroup.com/news_patients_providers6-20-2-349/virtual-conference-for-patients-loved-ones-and-their-cl.htm
Launched in 1998, NEREG is a multi-site practice in New Jersey and New York that offers unique services and comprehensive care to children and adults with epilepsy. NEREG provides state-of-the-art diagnostic procedures, 24/7 patient service, highly skilled and experienced practitioners, and exceptional specialty programs designed to cover a broad range of health care needs in each epilepsy and seizure patient. NEREG consists of eighteen board-certified epilepsy specialists with fellowship training in adult and childhood epilepsy, as well as many other highly skilled health care providers including pediatric/adult neurosurgeons, clinical psychologists, neuropsychologists, epilepsy nurse practitioners, and a specially trained nutritionist. NEREG is one of the only programs that has an embedded PNES treatment program.
Contact
Northeast Regional Epilepsy Group
Lorna Myers
212-661-7467
epilepsygroup.com

Contact