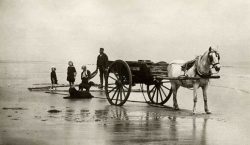 Lincoln, United Kingdom, June 03, 2008 --(
PR.com
)-- The campaign is to save the millions of old pictures in attics all over the country for the future. They seek to encourage everyone to talk to his or her parents and grandparents. Sort out those boxes of old pictures, drawings and postcards; write down the stories behind the pictures. Then bring them back to life by placing them on the web at the British Archive of Old Pictures for everyone to enjoy. They would like to see a dynamic Silver Surfer in every community talking to the residents in Care and Retirement homes, perhaps forming a group at the local community centre to recall memories and sending them with their pictures to the most comprehensive on-line archive of old pictures.
The Living Postcard Co. in partnership with the University of Lincoln and local historians have created the website for old or nostalgic pictures of the 'British' people in all their exploits, throughout the world, from whatever country they come from. Conquering Everest, exploring the world, fighting wars, creating works of art, buildings, bridges, ships, simply every aspect of British achievement and influence. The Archive is a website that will display the pictures for free access whether for research or general interest Equally important this will be a resource for local historians researching change in town and county, for family historians seeking a lost link and as an archive for teachers and the media.
In short, it is their aim to be the national educational, historical and genealogical resource for anyone researching our heritage. Be it people, transport, architecture, fashion, agriculture, the seaside or simply the local High Street.
The launch is on Siren FM on the 6th June at 9.00 am
The campaign is being launched on Siren FM 107.3 FM and on-line at www.sirenonline.co.uk with an hour-long interactive programme of interview and music, so make sure you listen in. Siren FM is 'Lincoln's first Community Radio Station', which is based at the University of Lincoln and draws on the impressive talents of a team of volunteers from the greater Lincoln area.
For more information visit www.living-postcard.co.uk or to arrange an interview contact Roy Mynott - Managing Director of The Living Postcard Co. Ltd via the 'Contact Us' facility on the website or call 07508 709588.
Press Release In partnership with the University of Lincoln.
###