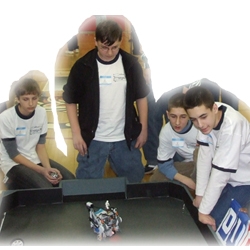 Branchburg, NJ, June 13, 2008 --(
PR.com
)-- As part of its continuing mission of furthering science and engineering education through hands-on robotics instruction, Storming Robots Technology Learning Center is pleased to announce the first RoboCon, an exhibition of robotics projects to be held Saturday, June 21st at Cedar Hills Prep Elementary School in Somerset, NJ.
RoboCon will highlight the accomplishments of students ranging from 2nd grade through high school seniors, as they present the culmination of up to 9 month of robotics achievement. Exhibits will include individual projects, group projects, and team challenges.
Storming Robots founder and RoboClub advisor Elizabeth Mabrey commended the achievements of these outstanding students, saying, "by starting to learn robotics technology early, these students are sharpening their ability to deal with increasingly complex technology in their futures...Whether these students become engineers or roboticists, or other professionals such as doctors, lawyers, or schoolteachers, their resourcefulness and appreciation of the power of knowledge will help them to excel."
Robotics projects on display will include a wide variety of student-programmed projects featuring simple to complex motion controls and sensor feedback, as well as structures that range from wheels and gears to basic walking mechanisms. Team challenges, highlighting both cooperation and competition, will include "robot soccer" matches between autonomous mobile robots, "robot sumo" matches, and more.
Karen Van Blarcrum, mother of RoboClub member Morgan Van Blarcrum, expressed her admiration for the students' mastery of the rigorous robotics curriculum: "The intensity of the program was directly reflected in the complexity of the robots. You should feel very proud with your clubs' accomplishments. Your robots rocked!"
The event is open to past and present RoboClub members and their families, as well as anyone who is interested in learning more about robotics technology. RoboCon will go from 1–4 p.m. on Saturday, June 21st, and is open to the general public from 2–3:30 p.m.
More information and a complete schedule are available on the Storming Robots website, www.storming-robots.com, or by contacting Storming Robots Director Elizabeth Mabrey at 908-595-1010 or admin@storming-robots.com.
###
Storming Robots is a technology enrichment learning center dedicated to using robotics education to build students' abilities in science, technology, engineering, and math. Through hands-on technology exploration, students strengthen analytical and strategic thinking skills and gain a lifelong appreciation for learning. Located in Branchburg, NJ, Storming Robots Technology Learning Center currently offers workshops throughout the school year, summer RoboCamps, and more. Visit Storming Robots online at www.storming-robots.com.
Contact: Elizabeth Mabrey
Storming Robots Technology Learning Center
3322 Rt. 22 W., Suite 402, Branchburg, NJ
908-595-1010
admin@storming-robots.com
www.storming-robots.com
###