Web's Most Popular Cat Still Feline Lonely
Members of a feline social networking site are banding together to help find the owners of a lost cat, sparking an international "cat-hunt", to reunite Betsy (as she has been named) with her family.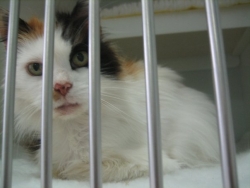 London, United Kingdom, July 02, 2008 --(
PR.com
)-- Last week United Cats – a social networking site for cat owners – profiled Betsy as "Cat of the week" and within 5 days she had over 2,400 friends from as far away as Chile, South Africa and Honduras.
"We posted a video of Betsy on our website and local lost and found boards. I didn't dream there'd be this much interest, " said Zeta Frasca of Kitten to Cat, London's only cat only veterinary clinic where Betsy is being given the attention and love she deserves after being brought in by a concerned client.
"One theory is that Betsy's family moved from the area and she found her way back so they could be anywhere now. We know from her microchip records that they lived in Kew, Richmond about 12 years ago but the trail goes cold as her owners didn't keep their details up to date."
Kitten to Cat's boarding facilities are equipped with web cams for owners to check up on their cats over Skype video but Betsy is not too fussed with the technology.
"She prefers to curl up on her shelf and sleep or play with her catnip mouse. However, with thousands of people circulating videos and pictures of her I am hopeful it will jog someone's memory" said Miss Frasca.
Meanwhile Betsy continues to attract new friends at a rate of hundreds per day and local residents pop in to Kitten to Cat to say hello to her regularly.
People can follow Betsy's plight on the following sites:
United Cats: http://www.unitedcats.com/cat/helpbetsy
YouTube: http://www.youtube.com/user/kittentocatlondon
Kitten to Cat:
http://www.kittentocat.com/
If anyone has any information about Betsy they should write to helpbetsy@kittentocat.com.
About Kitten to Cat. Opened in March 2008, Kitten to Cat is London's only cat only veterinary clinic. In addition to a cat friendly veterinary surgery, Kitten to Cat, has boarding facilities monitored by web cams so owners can make a Skype video call anytime to check up on their loved ones.
About United Cats. United Cats is an international social networking website for cat owners. Together with its sister business United Dogs, the site provides a fun community and a useful source of information for over 80,000 pet owners worldwide.
###
Contact
Kitten to Cat - Cat Only Veterinary Clinic in Richmond, London
Simon Hade
02089400014
www.kittentocat.com
Number available during UK business hours. Outside those times please email time to call back.

Contact