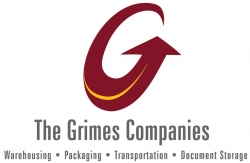 Jacksonville, FL, July 22, 2008 --(
PR.com
)-- The Grimes Companies (TGC) has moved up to become the area's 8th fastest growing company in the Jacksonville Business Journal's 2008 list of "50 Fastest Growing Companies" in Northeast Florida. Ranked 9th in 2007, the Jacksonville-based supply chain management company increased its growth rate this year, an accomplishment that had been predicted by Grimes President Michael O'Leary a year ago. "2008 has already been another great year for us," said O'Leary. "And, if we continue to execute in the 3rd and 4th quarters we can look forward to being on the list again next year," he added.
In spite of the economy, TGC is continually adding sophistication and range to its services, which include warehousing, transportation, packaging, and document storage. TGC's growth record reflects their commitment to the quality and consistency of their customer service. "We're in the service industry," O'Leary said. "Customers know what to expect. We're client-focused and in tune with what our clients need. We're consistent with our quality and committed to adding value for our customers."
The Business Journal's criteria are stringent and always verified by an independent accounting firm. To make the list a company must have had annual revenue of at least $1 million each year since 2005 and it must have had consecutive annual revenue growth from 2005 to 2007. Rankings were based on a company's percentage of annual growth over a three-year period.
Started in 1972 by Thomas L. Grimes, the company's growth is carefully controlled by O'Leary and his team of professionals. They are cautious to be sure they don't grow to the point where it impacts on their ability to manage current operations. "Every client is important, and each will be served in a superior way," said O'Leary.
TGC, a Jacksonville, Florida based company, currently operates both public and contract warehouses in Florida and Maryland. As a single-point solution for logistics and supply chain needs, TGC provides warehousing, transportation and packaging services to its clients. FileSafe, Inc., a wholly-owned subsidiary of TGC, offers document storage services to businesses in Northeast Florida.
###