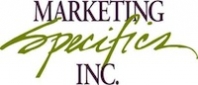 Marketing Specifics, Inc., goes beyond just marketing by providing comprehensive services that help businesses across a variety of industries to work better in terms of co-management, customer relations, information technology and more. For 25+ years, Marketing Specifics, led by Joan Barnes, President, has specialized in real estate marketing, however the firm has expanded to help businesses of all types effectively reach their targeted customers through creative solutions & proven results.
Joan Barnes and the Marketing Specifics' Team have won hundreds of awards and have earned a reputation for delivering quality service in marketing and advertising,e-marketing, public relations, website design, logo design, sales center design, clubhouse design and much more. With an accomplished background in commercial, residential and rental real estate marketing, Marketing Specifics has achieved a level of expertise that has successfully translated to other business communities, including: museums, aquariums, theme parks, destinations and other fields.
The company is based in Kennesaw, GA, but works both nationally as well as internationally. For additional information call Joan Barnes, President at 800-717-8999.