D. Earl Barnes' Service Honored in New Exhibit in The Whalehead Club's Wildlife Museum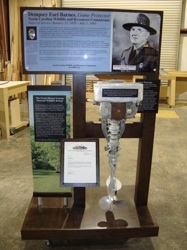 Corolla, NC, August 20, 2009 --(
PR.com
)-- Though he passed away over thirty-eight years ago, Dempsey Earl Barnes' life work and contribution to the State of North Carolina has been uniquely honored and lives on in the newest exhibit at The Whalehead Club Wildlife Museum. The museum is located in the Outer Banks of North Carolina.
The exhibit display is recognition of Barnes' work as one of North Carolina's first game wardens, appointed in 1938 under the then title of the job as "Game Protector." Barnes was assigned to cover and protect the wildlife of Gates County and specifically the area now known as Merchants Millpond State Park located in Gatesville, North Carolina.
Barnes' three sons - Vincent Barnes of Suffolk, VA, Thomas Barnes of Corapeake, NC, and Cliff Barnes of Franklin, VA, - all donated the display to the museum as a tribute to their father. Curator Sharon Meade, assisted the family in making the display dedication possible for the museum.
Marketing Specifics, Inc., of Kennesaw, GA was selected to design and fabricate the exhibit. The firm has won hundreds of awards over the years in display and design work. The firm's website is www.marketingspecifics.com.
To view this new exhibit, visit The Whalehead Club Wildlife Museum, which is open daily from 10 to 5 in Corolla. The museum is a part of the Whalehead Preservation Trust, a non-profit organization established in 1993 to restore and preserve the Whalehead Club.
To learn more about North Carolina Wildlife Resource Commission, visit www.ncwildlife.org.
###
Contact
Marketing Specifics, Inc.
Joan Barnes
770-426-1107
www.marketingspecifics.com
Please call Joan directly on this release.

Contact