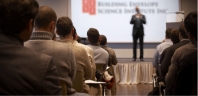 Building Envelope Science Institute Inc. (BESI) is a specialized institute dedicated to the advancement of education, specifically designed for the construction industry. BESI is the industry's premier training and continued construction development center for today and future construction needs. The institute, while having a strong emphasis on building science development, provides a range of programs, courses and seminars offering the latest in concepts, practical construction solutions, ethical reasoning and efficient construction techniques for all areas building, maintaining or restoring.
The mission of Building Envelope Science Institute, Inc. (BESI) is to provide the highest quality of training, certification programs, and resources as well as over all knowledge in successfully constructing, maintaining, and restoring building envelope construction. Investigation and analysis of new products and materials which will further develop and enhance the building envelope construction.
BESI desires to be the leader in bringing all the components of the building together into one cohesive unit that does not leak and provides for long-term performance.
Building Envelope Science Institute, Inc. (BESI) was created to be a leader and identify, develop and deliver the most effective and efficient training opportunities for the construction industry. Programs combine construction industry specific knowledge with applied techniques, bringing all the pieces of the building envelope science together into one cohesive unit with the highest levels of professionalism.