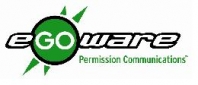 Established in 1996 in Dayton, Ohio to create new solutions for eSales, eMarketing, and eCommunication issues, founder Ralph F. Conley, Jr. envisioned a technological solution that would make eMarketing efforts interactive and accountable. After more than four years of development and beta testing, the eGOware technology was introduced to key markets in late 1999.

eGOware Inc.®, is a managed digital data delivery and communication solutions provider, offering its clients the ability to effectively deliver and share secure data to employees, customers, and associates without the ever-increasing limitations of capacity, reliability, logistics, adaptability and control associated with e-mail and network infrastructure. eGOware, Inc. also provides businesses and consumers with state of the art communications and alerting capabilities so critical to business continuity and security in today's tense political, economic and social environments. eGOware, Inc.'s vision is to become the leading provider of managed delivery for mission-critical digital data and alerting services in the world.

Today, eGOware, Inc. is a provider of innovative, Web-based solutions that gives businesses and customers a private, secure communication channel accessible directly from an icon on their computer desktop. eGOware, Inc. puts the power of the Internet directly in the hands of the user with its dynamic ePublishing technology. As the Brand holder, the user decides exactly what and how often to communicate with employees, customers, or associates. eGOware, Inc. continues to develop new products and build custom applications that will enhance the Brand holder's communication and marketing strategies. eGOware, Inc. is continually striving to provide marketing and communication professionals with low cost solutions for improving customer relationships, brand recognition and increased sales. This is what makes eGOware, Inc. and its technology revolutionary.

eGOware is a virtual solution to real problems. By the simple click of a mouse, you can now communicate securely with anyone, anywhere, anytime on any device.

Our patented messaging & alert system collaborates with any device, or combined devices, in a mix-and-match arrangement. So that instantly you can reach users on their desktop, email, phone, cell, PDA, fax, etc.

Core Technologies
eGOware's® base product, the Private Communication Channel, is a custom-branded, private pipeline that allows our customers to proactively deliver digital data, communicate, and share time-sensitive information securely from computer to computer. Our Private Communication Channel proactively delivers the information directly to the custom icon on the desktop, eliminating the clutter and issues of having to sort through the junk mail and SPAM in the email inbox.
Status

Private Company

Founded

1996