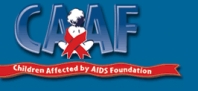 Our Mission:
The mission of the Children Affected by AIDS Foundation (CAAF) is to make a positive difference in the lives of children infected with HIV and affected by AIDS. CAAF accomplishes this by helping meet their diverse, special needs, advocating and educating on their behalf, and bringing joy and fun into their lives.

History:
CAAF was founded in Los Angeles, CA, in 1993 by Joe Cristina, a Mattel, Inc. executive whose desire to help children was inspired by the outpouring of support he received when he disclosed his own HIV+ status.

Need:
The U.S. Government estimates that there are approximately 14,000 American children infected with HIV. It is also estimated that there are nearly 80,000 American children who have been orphaned by the AIDS-related deaths of their parents. Because of rapidly changing life expectancies among people with HIV infection, no reliable estimates can be made of how many children affected by AIDS will be living in the U.S. at the end of this decade.

What Sets CAAF Apart:
There are many organizations raising money to find a cure for AIDS. Funding for research is urgent, but in the meantime, CAAF is working to improve the quality of life for the thousands of children living with the affects of HIV/AIDS. Also, CAAF provides assistance for things other sources of funding often don't. CAAF strives to fill in the gaps between conventional funding and the unmet needs of this specific population.

Stewardship of Funds:
CAAF serves as a bridge between community-based organizations that are providing the emotional and physical care for AIDS affected children and the individuals and corporations who want to ensure that their dollars make a direct and meaningful impact on the lives of children. CAAF ensures that donor funds are distributed and utilized appropriately and wisely through a national, peer-based grant review process as well as rigorous quarterly reporting requirements.

Grantmaking:
CAAF grants, ranging in size from $2,000 to $50,000, are made to nonprofit agencies throughout the United States for assistance in the following areas: basic needs, care, emergency special grants and social & recreational and camp programming.
Status

Private Company
Company History
CAAF launches critical report, "Preserving the Future: HIV/AIDS and the World's Children"

CAAF, in conjunction with the International AIDS Trust (IAT), recently co-sponsored a major advocacy report, Preserving Our Future: HIV/AIDS and the World's Children. The report was released on April 7, 2004 by Senators Mike DeWine (R-Ohio) and Hillary Rodham Clinton (D-N.Y.) at a special Capital Hill event as a call to action for Americans to join in the worldwide battle against HIV/AIDS on behalf of children.

Millions of Children in Need Worldwide
As of 2003, more than 40 million people-the population of California and Florida combined-were infected with HIV worldwide. Among its findings, the Preserving Our Future report highlights the devastating impact of the global HIV/AIDS epidemic on the world's children:

More than 13 million children under age 15 have lost one or both parents to AIDS. One third of these orphans are under age five.
The number of children orphaned by AIDS is expected to reach 25 million by the end of the decade.
Nearly 2.5 million children under the age of 15 are living with HIV.
More than 1,700 infants a day contract HIV through mother-to-child transmission.
Untreated, most children born with HIV will die before their 10th birthday.
CAAF is pleased to have worked with the IAT on this critical report that will be circulated to members of Congress, business leaders and non-profit leaders throughout the world. Focusing on children in the areas hardest hit by the epidemic, CAAF believes the report will remind the world the voices of children in developing countries impacted by AIDS are not lost.