TransGuardian saves shippers an average of 30% on their insured FedEx, UPS, OnTrac and USPS shipments. But it's not only about price. It's about choice. Our multi-carrier, online software offers 70 ways to ship, sortable by speed and price, quoted all in one place online before you buy, so you can always chooose what is cheaper, better, or faster. We're making it so easy to ship and save that doing it the old way is just a waste of money and time.

We cover up to $150,000 per parcel worldwide through Wells Fargo Insurance Services. We are the official, exclusive shipping solution for the NY Diamond Dealers Club.

We provice Patriot Act Compliance Solutions for diamond and jewelry companies.

We have web API and also API to integrate our modules customizably to inventory, order-processing, or other shipping solutions (e.g., Pitney Bowes' SendSuite).
Status

Private Company

Founded

2005

# Employees

10
Company History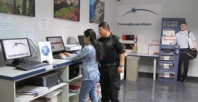 TransGuardian was founded in 2005 by Jim Moseley, the President/CEO. Mr. Moseley managed the FedEx DVX (high-value shipping) program from September 2001 to October 2005 and was responsible for its record growth and development. He was the founder/owner of ONE Service, subsequently purchased by G4Si. He was President of Ferrari International, Vice President Asia/Pacific of Prosegur, Inc., and Director of International Development for Brink's, Inc., where he was instrumental in founding or developing key Brink's services, including the Brink's Italian gold jewelry courier service, Brink's Arya (India), the Brink's Antwerp Diamond Courier System, Brink's Thailand, Brink's Pakistan, Brink's Singapore and others.

"Our software delivers what clients really need, not just what software programmers hope to sell," says Moseley. "We're creating game-changing solutions that give our clients a unique competitive edge."