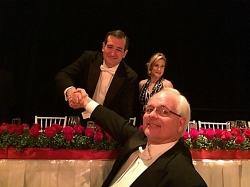 Los Angeles, CA, March 11, 2014 --(
PR.com
)-- The annual, exclusive Gridiron Dinner, with 65 members of the Washington's media elite, celebrated its 129th year. The Gridiron is famous for its white-tie dress code, self-deprecating speeches by leading politicians, and satirical song-and-dance acts performed by the Fourth Estate.
Jim Moseley, CEO of
TransGuardian
, a leading online provider of insured logistics software, attended as a guest of his sister, Randall Phillips, a TV journalist, former Broadway star, and one of the lead singers onstage. "It was fun meeting Michael Bloomberg and Ted Cruz," said Moseley, "but the best part was hearing my sister perform – she can really sell a song!"
Every president since Grover Cleveland has attended the Gridiron dinner, which was first held in 1885. On Saturday night at the Renaissance Washington Hotel, Secretary of State John Kerry filled the slot usually reserved for the president (who was golfing in Florida). The Secretary spoofed the NSA surveillance scandal by telling the crowd that it was "so nice to put faces to the metadata."
Senator Ted Cruz, R-TX, known for bucking party leaders' instructions, told the audience that Senate Minority Leader Mitch McConnell, R-KY, had asked him to represent the GOP, "and when Leader McConnell wants something, who am I to say no?" Cruz quipped of his recent filibuster against Obamacare, "It featured 21 hours of nothing but my favorite sound."
Charlie Crist, a defeated Republican Florida governor who switched parties in a bid to regain the job as a Democrat, spoke for his new party. The perennially tan Crist referred to himself as a "person of color" and ribbed Cruz's fans as wearers of "tri-cornered aluminum-foil hats."
"Is Charlie Crist still here?" Kerry asked. "I had to check — he's always so quick to leave a party."
Among the skits performed by journalists mocking both parties, was a number spoofing New Jersey Governor Chris Cristie's recent "Bridgegate" scandal, sung to the tune of Simon and Garfunkel's "Feelin' Groovy." The mock lyrics were, "Hello, Fort Lee/ How's it flowing? /I've come to watch your gridlock growing." New Gridiron members Bret Baier of Fox News and NBC News Washington Bureau Chief Ken Strickland evoked hearty laughter as they came onstage in an outlandish costume representing the George Washington Bridge.
Over 640 guests attended, including Cabinet members, military brass, White House aides, administration officials, two senators, a governor, and 10 ambassadors, Michael Bloomberg, Comedy Central's Stephen Colbert, and tennis legend Martina Navratilova.
"In gridlocked DC," said Moseley, "it's nice to know there's still one venue where everyone can gather and laugh at themselves. They say the humor of the Gridiron is meant to singe, but never burn.'"