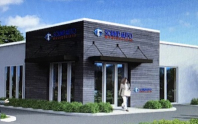 Sound Auto Wholesalers of Branford, Connecticut is a used car dealership featuring late model used cars. Higher Quality. Lower Prices. Better Credit Plans.
Visit our website to see all the ways we beat Carmax and Carvana.
We are A+ Rated by the Better Business Bureau.
Owner Dan Merriam is a third generation car dealer. His grandfather, Sam Merriam founded Merriam Motors in 1948 on Forbes Avenue in New Haven, not far from the current Branford location. His father, Larry Merriam, founded Key Auto Group in 1983. Key Auto Group held franchises for Lincoln-Mercury, Ford, Jeep and other brands and was one of the first Hyundai Dealers in the United States.
Dan is proud to continue his family legacy of selling quality vehicles and satisfying customers.