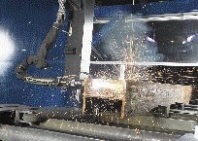 Custom factory automation and system integration.
Burlington Automation is a manufacturer of fabricating machinery, tube processing equipment and material handling systems.

Burlington Automation Corp. designs and builds "state of the art" manufacturing systems. These include 5-axis plasma cutting machines, gantry style pick and place machines, drill lines, punch lines, angle lines, custom machining centers and other fabrication machinery.
Status

Private Company