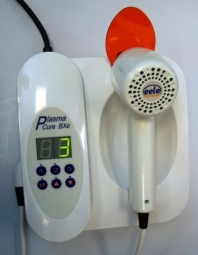 Manufacturer of Plasma Arc curing light. Effectively cures in 1, 3 or 5 seconds. Also features a bleaching function. 30 day money back guarantee.

eeleDental is the department of eele Laboratories, LLC that specialices in designing and manufacturing high performance and high quality fiber optic light sources and related accessories for the DENTAL market.

eeleDental leverages advanced intelectual property in the illumination field developed by its R&D department, eeleLabs, the product engineering talents of its engineering department, eeleEngineering, and the state of the art illumination component manufacturing processes of its eeleLRM, eeleThinFilms, and eeleElectroforming departments.

The newest product from eeleDental, the PlasmaCure™ BXe dental curing light source, for example, incorporates more than 10 years of product design experience for the medical field and utilizes the best illumination technology. At its heart is the most advanced plasma arc lamp reflector module, i.e. the eele Lamp Reflector Module which allows such an efficiency improvement in light collection and delivery that the whole Plasma Arc Xe light source can be incorporated inside the handle of the dental curing light operates only at about 1/3 of the power of conventional plasma arc light sources and still has superior heat filter capability and output stability. The PlasmaCure™ BXe is designed to operate for 100,000 shots which represents typically 5-8 years of use.

Similarly the eeleCoolTip™ technology leverages the advanced thin film manufacturing process capabilites of the eeleThinFilms department and the extensive fiber optic design and manufacturing experience of the eeleDental product design team to provide a fiber optic dental curing, which delivers superior spatially uniform light output across the exit tip with less heat loading.

Together the PlasmaCure™ BXe and the eeleCoolTip™ provide the most advanced curing light source for the dental market.

Now we are offering three advantages on our Dental Plasma Arc Curing Light so you can buy with confidence. Brand New Reliable, Complete 1,3 or 5-Second Dental Plasma Arc Curing Light. One-Year Warranty directly from eeleDental. 30-Day Money Back Grarantee. Free Shipping in North America.
Status

Private Company