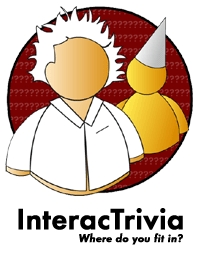 At InteracTrivia, our goal is simple: to make great software. We will never water down our product lineup just to bring more products to market, choosing to focus on our core product and continually improve it.

InteracTrivia, Inc. is a pioneer in the convergence of Macromedia Flash and Microsoft .Net technologies to create feature-rich and engaging real-time multiplayer games.
Status

Private Company

Founded

2005
Company History
InteracTrivia, Inc. was formed in 2003 with the sole purpose of bringing real-time, multiplayer, online trivia gaming to the world. After nearly 2 years of content and software development, InteracTrivia's first game play software client was released for public beta testing on July 1, 2005.