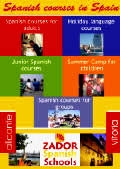 ZADOR, schools of Spanish in Spain, in Alicante and Vitoria, offers a varied program of Intensive Spanish Courses to foreigners to learn Spanish in Spain with a communicative approach; several types of accommodation, activities and excursions and, above all, a close and personalised relationship with the students of Spanish.
ZadorSpain offers you two very different destinations in Spain: one in the North, in the Green Spain of forest and vineyards -Vitoria; and the other on the Mediterranean Coast, in the Blue Spain of the Mediterranean Sea -Alicante.
Both language schools offer Spanish courses for adults throughout the year and, in addition, Summer Camps for teenagers and children in the summer.
For more information you can visit www.zadorspain.com or contact us at info@zadorspain.com.