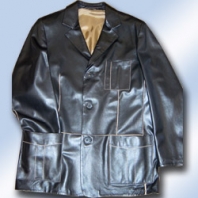 Gokova Leather Co. , a Sepiciler Group Company, is recognized as one the leaders of Turkish manufacturers in the leather garments and finished leather industries. Right from the date of our inception in 1983, we have earned a distinct reputation for our premium quality leather garments and also finished leathers in the national and international markets.

Sourcing the best quality hides, our tanneries produce specialised leathers for manufacturers of garments and footwear. Especially our goat and sheep suede and lamb nappa are unique in quality and have distinctive, luxurious look and feel. In our clothing manufacturing facility, all the garments are made using premium quality leather, supplied from our own tanneries.
They are manufactured by an efficient team of skilled professionals and designed by expert designers.

Our leatherwear collections for men and women consists of jackets, coats, pants and skirts, available in classic and contemporary styles. We have also been manufacturing for many of the famous brands such as Ferdinand Hauber (Luisa Erano), Versace , Lodenfrey Menswear, Henne Country Mode, Schneiders Bekleidungs, Auzinger Bekleidungs, Meindl for Men, Desch for Men, Elg Bekleidung, Lederbekleidungsring, Conley's, Wille, DKNY, Lecra, Sonja Marohn, etc. Our vast experience and expertise enables us to satisfy clientele across the world. We are trusted to consistently deliver high-quality products with very competitive prices, while our production flexibility is such that we can meet the needs of boutique designers as well as large-scale manufacturers.

The annual production capacity of our leather garment factory is 50 000 pcs, 50 % of which is exported to USA, Japan, Germany, France and Austria.
Status

Private Company