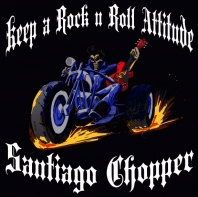 Santiago Chopper has been building custom choppers long before it was popular and has been featured in biker magazines across the globe. They have numerous "Best in Show" awards from some of most well known competitions such as Sturgis and Easyrider. Santiago also offers theme customs and have such creations as "The Wild One" dedicated to Marlon Brando and the most recent, "Rockabilly Tribute" that celebrates the oldest form of Rock-n-Roll. Complete custom creations are still the heart and soul of Santiago, but the latest line seeks to fill a void by making custom choppers without the custom price.
In recent years, Santiago Chopper has directed their attention towards the conversion of chain and belt drive motorcycles into trikes. They began with the most popular American made motorcycle Harley-Davidson®. Santiago Chopper has progressively figured out how to convert each and every Harley model with a chain or belt drive into a trike. These models include: all touring models, Roadking®, Ultra-glide®, Softail®, Fatboy®, Dyna®, V-Rod®, and Sportster®. After conquering the conversions of Harley motorcycles Santiago Chopper went on to master select Ridley & Kawasaki trike conversions. They manufactured and produced viable full trike conversion kits that are easily installed by people with novice bike building skills. Their kits consist of the proper swingarm, a differential axle, fenders, and most of the hardware needed to complete a home based installation. Additionally Santiago Chopper created an online trike conversion tutorial as well as a trike specific forum that can be found on their website in order to efficiently answer any questions or concerns about the conversion process.
It's not a bike….it's a chopper!