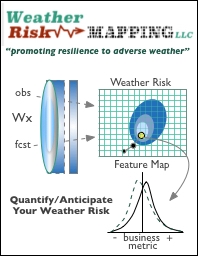 Weather Risk Mapping: Monitor and forecast your operational weather risk. Combine any weather-sensitive business metric with your customized weather index to quantify your unique weather risk over the daily-to-weekly time range. This innovative service anticipates your revenues and expenses under all weather conditions, allowing you to proactively boost profits and mitigate losses.
Temporary business losses due to weather are no longer simply a "cost of doing business." Increased weather extremes accompanying climate change are the new norm. Weather Risk Mapping, LLC (WRM) provides operational daily and weekly weather risk analyses for a wide range of businesses and enterprises. This process begins with quantifying a business-specific weather risk using an innovative "mapping" algorithm which associates your historical business metric (revenue, expense, etc) with the historical weather, uniquely defined by your business location(s) and operational specifics.
Such mapping facilitates routine weather risk monitoring and projecting future weather risk using state-of-the-art ensemble weather forecast models. This analysis approach is intuitive, flexible, statistically rigorous, and also cost-effective. Weather risk monitoring and forecasting are presented probabilistically, due both to the business metric and weather variability within the "mapped" business/weather associations. Results, updated daily and available on the web, are presented both graphically and in spreadsheet format to best enable users to develop and hone their risk mitigation strategies. Visit
http://www.weatherriskmapping.com
for a complete description of our service.
WRM is a small business start-up founded in 2016 by Dr. Douglas Stewart, C.C.M. who holds graduate degrees in meteorology from M.I.T. and the University of Miami. He has more than 35 years of experience developing computer models and analyzing geophysical data sets in support of meteorological and applied climate studies, and has over 15 years of experience in web-based software development.
Company Contact Information:
Dr. Douglas Stewart
Weather Risk Mapping, LLC
stewart@weatherriskmapping.com
(561) 619 8127