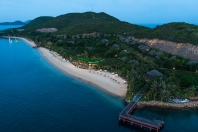 MerPerle Hon Tam Resort is the "oasis" nestled in the tropical breezy hills of Hon Tam Island. Surrounded by scenic evergreen hills, the resort has a spectacular view down the turquoise gem that is the famous Nha Trang bay.

Located isolatedly on a beautiful island in the tourism city of Nha Trang, Merperle Hon Tam Resort is somewhat a destination of your-must choice for a hideaway from the bustling city life, a seek for couple romance or simply a family rest and relax or even any reasons.

At MerPerle Hon Tam Resort, guest satisfaction is the top priority and the team continuously are working hard toward enhancing the resort image and building a great brand name by providing better care of guests.
www.hontamresort.vn/virtual-tour/
Status

Private Company

Founded

2006

# Employees

488
Company History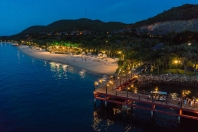 2006: Hon Tam Nha Trang Sea JSC was established (for Hon Tam Resort which later was renamed as MerPerle Hon Tam Resort until now) in which Khai Vy Group JSC owned 82% major shares.

2013: MerPerle - A sea blue gem was created and developed with modern and high standard resorts & hotels of 3-5 stars ranking in order to build a sustainable tourism brand name.