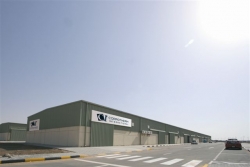 Dubai, United Arab Emirates, February 12, 2008 --(
PR.com
)-- Corrotherm International have opened the first nickel alloy stocking facility in the Middle East.
The warehouse is located along with the Corrotherm Sales Offices in Dubai at the newly developed Dubai Airport Freezone, and is the first specialist stock of its kind in the region.
The new facility reflects Corrotherms commitment to the region, where it has been a leading player in the nigh alloys distribution market for over 15 years, and represents a significant investment in the company's confidence in the market for heat and corrosion resistant metals in the Middle East.
The company has seen a considerable increase in demand from the region in the last 2 years which in part has been driven by the increased oil prices.
Jan Ward the company's CEO commented "the rise in oil revenues has allowed operators to exploit previously uneconomic fields. In addition the fields are ageing and old technology is being replaced with the latest materials. Aging fields also mean an increased use of high pressure injection techniques which has led to an increased use of equipment manufactured from materials that are able to withstand these conditions."
The General Manager of the new service, Piers Cooper said, "The company has shown its commitment to its customers here with a hard cash investment, and is here for the long haul."
###