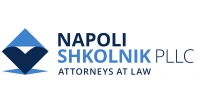 Napoli Shkolnik PLLC is a national litigation firm providing representation to victims of defective prescriptions drugs and medical devices,
asbestos-related illnesses
, aviation accidents, complex litigation and other
serious personal injury
matters. Our attorneys have a proven track record of successfully handling these types of matters over the past 22 years. Notably, our attorneys were part of the teams responsible for the historic $816 million settlement for injuries sustained by World Trade Center first responders from toxic dust at Ground Zero following the attacks of September 11, 2001; the $650 million settlement related to the heart drug Pradaxa; the $100 million settlement involving the birth control device NuvaRing as well as the landmark billion-dollar series of settlements in a major diet drug case.