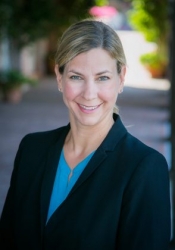 Los Angeles, CA, June 05, 2019 --(
PR.com
)-- Napoli Shkolnik PLLC is proud to announce that
Jennifer R. Liakos
has been appointed the Plaintiffs' Steering Committee in in Re: 3M Combat Arms Earplug Products Liability Litigation (Case No. 3:19md2885) by United States District Court Judge M. Casey Rogers for the Northern District of Florida Pensacola Division.
The Panel received and reviewed close to 200 applications and selected Ms. Liakos from this highly qualified field for her extensive experience handling complex, multi-district mass tort cases, including the Abilify Products Liability Litigation.
"The men and women who serve and protect this country deserve our gratitude," said Jennifer Liakos. "It is unconscionable that our troops were sent into combat situations with defective equipment. I look forward to working with this skilled group of professionals to hold 3M accountable for the injuries its product caused."
The lawsuit alleges that 3M sold defectively designed Combat Arms earplugs to the military and failed to warn wearers of the defect and to provide proper instructions of their use. It further alleges that the Combat Arms earplugs did not maintain a tight seal and dangerously loud sounds slipped through without the user knowing and this resulted in hearing loss, tinnitus and deafness for those military service members who were issued the Combat Arms earplugs and served between 2003 and 2015.
The litigation seeks to recover for personal injuries and future medical monitoring from the Minnesota-based manufacturer, 3M.
About Jennifer Liakos
Jennifer Liakos is the Managing Partner for the Los Angeles office, focusing her practice on mass tort litigation, including pharmaceutical product liability, personal injury, and medical device litigation She has been court appointed to several leadership positions, including the Abilify and Viagra products liability litigations. An experienced litigator, Ms. Liakos has testified before the FDA advisory board on amending the regulations concerning generic manufacturer liability.
About the firm
Napoli Shkolnik PLLC
is a national litigation firm providing representation to persons in mass tort, class action lawsuits and complex commercial cases, as well as victims of environmental contamination disasters, aviation accidents, defective prescriptions drugs and medical devices, asbestos-related illnesses, and other serious personal injury matters. With their principal offices in New York City and additional offices in California, Delaware, Florida, Illinois, Kansas, Michigan, New Jersey, Ohio, Texas, and Washington DC as well as affiliates throughout the United States, Napoli Shkolnik PLLC is readily available to clients.
Media Contact
Jennifer R. Liakos
Napoli Shkolnik PLLC
5757 W. Century Boulevard, Suite 680
Los Angeles, CA 90045
(844) 230-7676
JLiakos@NapoliLaw.com
www.NapoliLaw.com