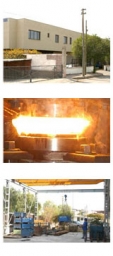 Metsan Ltd. is an ISO 9001:2000 certified manufacturer of hot forged parts, supplied in steel, stainless steel, bronze and titanium within the weight range of 0.20 kg to 13 kg Headquartered in Izmir Turkey , Metsan has been serving as the reliable manufacturer for many industries such as automotive, machinery, agricultural equipment, medical equipment and mining. Equipped to provide high quality forgings as per international standarts, the company also offers secondary operations like machining, heat treatment, coating and finishing, depending on the customers orders.

Metsan Ltd operates a facility which has approximately 1 600 sqm of production space . The machinery list consists of friction screw presses up to 1 200 tons, eccentric presses up to 400 tons, 3 150 kg Lasco drop hammer , 150 kg air blow hammer and two induction furnaces. There is also in house die design and manufacturing equipment as well as a complete line of measurement and test equipment.

Metsan Ltd. is committed to maintain its success through the provision of consistently high level of quality , on time delivery and competitive pricing.
Status

Private Company

Founded

1982

# Employees

26
Company History
Our company was founded in 1957, to produce fasteners, hot forged parts and spare parts for tractors.

As the production range grew up the factory moved to 1st Industrial Region in 1969, 2nd Industrial region in 1981.

In order to improve quality and amount of production, METSAN Forging moved to a 1600 m2 building in 1995, and hot forged parts became the main product of the company.

Our wide experience on hot forging is combined with our young and dynamic employees in producing hot forged parts for automotive, agricultural machines, mining, machine and medical instruments industries.

Machined parts can also be produced.