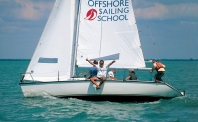 Welcome to Offshore Sailing School!
America's #1 Sailing School® is the leader in sailing instruction, sailing lessons and sailing adventure travel vacations.

Flagship of the Colgate Schools, Offshore provides sailing courses certified by Steve Colgate and US SAILING, from learning to sail to bareboat cruising, to ocean passage making and live aboard blue water sailing.

Fast Track to Cruising® combines the Learn to Sail course and your choice of either Live Aboard Cruising or Bareboat Cruising Preparation. This week-long course is the fastest way to learn to sail. You start with a high-performance 26 footer and immediately segue to a 43-50' monohull or catamaran; your entry into the incredible sailing lifestyle is guaranteed.

Offshore Sailing School's popular Corporate Sail-Race Challenge®, one of our corporate teambuilding activities, has attracted hundreds of corporations and associations over the years that understand the value of introducing an achievable activity to reach company goals and evaluate team members.

In all of our courses, we teach a maximum of four students per boat, per instructor, utilizing all three ways of learning — auditory, visual and kinesthetic. Our instructors are chosen very carefully; they are a select group of men and women who are dedicated to your personal development through sailing, and often "exceed expectations" on the evaluations we receive.

We're the ones you trust for a quality sailing education.
Status

Private Company

Founded

1964
Company History
Since 1964, Offshore Sailing School has operated as a private corporation under the day-to-day guidance of the Steve and Doris Colgate and the Offshore Sailing School team. Over 125,000 individuals are Offshore Sailing School graduates.

We're the team behind the finest group of instructors you'll find. Your life-changing experience begins with the dedicated and close-knit team you'll meet on the phone, on our boats, and at boat shows where sailors gather. When you take a course or do a corporate program with Offshore, you receive all the benefits of our vast experience! We are continually improving, refining and polishing our curriculae to give you exactly what you need to feel confident at the helm.