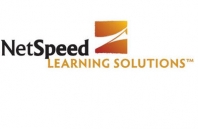 NetSpeed Learning Solutions (www.netspeedlearning.com) provides cutting-edge e-learning and blended solutions that give mid-sized organizations tools to quickly launch programs, reinforce skills, measure the impact and report results. We offer customizable programs for managers, supervisors, individual contributors and work teams, delivered in the classroom or over the web as well as learning on demand that can be downloaded to mobile devices.
We offer a suite of innovative programs including:
• Blended learning programs for managerial and supervisory skills development, as well as for front line customer service personnel
• Instructor-led training in the classroom or on the web, followed by self-paced elearning reinforcement tools.
• Self-paced learning on demand for individuals at all levels within an organization
• All of the above followed by easy-to-use web tools so training administrators can track and report on the impact of this learning
We help mid-sized organizations develop the skills of their managers, supervisors and employees, by providing flexible, customizable learning tools to meet the learning needs of these organizations and their employees as well as tools for training administrators to track the results of their training implementation. Our clients value that we understand the business challenges they face are and nimble enough to provide practical, flexible tools to help them overcome these challenges.