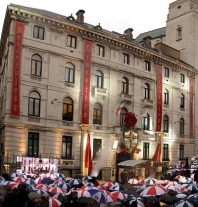 The Church of Scientology London was established over 50 years ago and has been a centre of knowledge and wisdom to thousands since it first opened its doors at 123 Marlborough Place.

Today centrally located in the City in Queen Victoria Street, this church is following its own tradition: effectively helping people live happier, more successful lives.

The word Scientology means "the study of knowledge or truth." It is not a dogma that you believe in, but rather is something you do to change those things in your life you know should be improved.

It is based upon discoveries made by its founder, L. Ron Hubbard (www.lronhubbard.org), who drew upon wisdom of 50,000 years of thinking men, as well as his own research of 21 cultures—to identify the fundamental laws of life.

One of those laws is that you are a spiritual being with unlimited potential—something you may already be aware of about yourself.

Another law is that there are factors which hide and block your potential.

By studying Scientology courses, you will learn information and tools to tap that potential and become who you really are.
Status

Private Company

Founded

1959
Company History