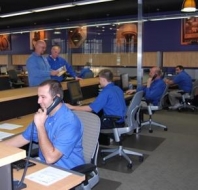 Automated Video Systems or AVS created the EZWatch Pro surveillance line of products in Spring of 1998. The goal of the product line was to provide a low cost professional grade surveillance system which could be easily installed and used by a person with little or no electronic background. Since its beginning thousands of EZWatch Pro systems have been sold and installed, providing superior performance, value, reliability and customer satisfaction. EZWatch Pro has truly established itself as one of the most friendly yet powerful surveillance systems on the market.
All products developed and sold through AVS have been developed and tested by actually installing the equipment in real security applications over the past several years. From small town USA to the 911 Baghdad Emergency Dispatch Center, our equipment is installed and operating. All equipment, software and installation procedures are "tried and true" tested in over 60,000 different installations. For more details on the many products we offer please visit: www.ezwatch-security-cameras.com
Our Location: The company's main corporate offices and customer support center is located in a new state of the art 10,000 sq. foot facility located in Salt Lake City, Utah. This facility also supports our software programming department as well as our purchasing department. Two nearby warehouse facilities provide product control, packaging and shipping services.
Customer Support: We currently maintain one of the industry's largest customer support departments, providing live customer support 12 hours a day. Each and every one of our support representatives have completed extensive training on all of our products and have extensive knowledge on product application and trouble shooting. All this with one goal in mind, 100% customer satisfaction! Being focused on customer satisfaction is an integral part of our past success and the cornerstone of our future growth.