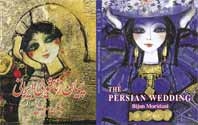 Bijan Moridani is the author of The Persian Wedding. Just in time for Norooz, a gorgeous book called The Persian Wedding makes the perfect gift for the Persian New Year. From ancient Persia to present day Iran, the celebration of the uniting of man and woman is described in this unique book.

The visually captivating tradition is carefully presented as a work of art, with ten paintings by internationally renowned artist Nasser Ovissi as well as many pages of photos of the ceremonial wedding setting and its details and symbolism.

Written by Southern California resident Bijan Moridani, the book details Persian wedding traditions from ancient times until the present day and is fully written in both English and Farsi so that all members of the family can enjoy it.
Status

Private Company