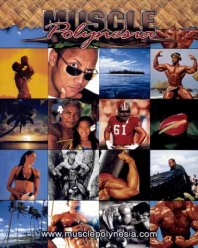 The official health, fitness and body building magazine for men, women and children of all ages. We are a source of fitness information for families throughout Polynesia and the world.
We are Messengers of Hope with a vision to encourage, motivate, inspire and educate families on the importance of staying healthy.
More than a magazine, Muscle Polynesia (MP) represents a lifestyle. The mission of our organization extends beyond developing the body, mind and most important the spirit of a person. We are about the lost arts and practices of a generation almost forgotten. Recognizing the legacy of this great and powerful inheritance, Muscle Polynesia is about establishing a heritage for the most well developed people the world has ever seen. That is you! We are all part of the past and together hold the key to the future.
Join us as we celebrate a healthy lifestyle ~ the Polynesian Way!