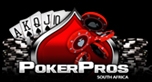 PokerPros was launched on 1 November 2008, and has since been an active diplomat of the online poker industry. As the brainchild of Thomas Pays, a devoted poker player, PokerPros has successfully established itself as a reliable reference portal to the South African poker community and currently hosts a collection of material most relevant to this market.
This includes a vast number of articles, poker news and poker room reviews which are continuously reviewed by independent parties to ensure that the information available to visitors is both, accurate and unbiased.
The main objective of PokerPros is to establish an ongoing relationship with its visitors and to assist them in developing a rewarding poker career. PokerPros has therefore made it possible for visitors to access a portfolio of poker room reviews which highlight information most valuable to them.
This currently includes reputable destinations such as Full Tilt Poker, CD Poker, Everest Poker, Poker Stars, Pacific Poker and Titan Poker with more being added daily in an attempt to offer potential players with variety and complete freedom of choice.
The recently launched poker school additionally places PokerPros one step closer to its goal of becoming a comprehensive companion to the South African poker public. This provides beginner, intermediate and advanced players with a variety of concepts, tutorials and information that has been created to assist and develop new confidence in players.
The PokerPros interactive poker forum also attributes to the development of players on an ongoing basis and makes it possible for registered users to interact and share their experiences with likeminded individuals. This is, perhaps, the most popular feature available at PokerPros due to the instant news and tournament updates that both, PokerPros and its members, contribute to the forum.
On 22 May 2009, PokerPros launched a free poker room to allow beginner players, who are unfamiliar with online poker, the opportunity to become accustomed to the functionality and speed of online poker software. Apart from the fact that it has proved an immensely successful addition, the free poker room also substantiates PokerPros' unconstrained attempts to popularize poker in South Africa through tailor-made features.
Poker Videos, All Africa Poker, Bluff Magazine.