The world's first natural and effective BPH treatment, sciatica pain relief, kidney stones treatment and lower spine area care are available exclusively at www.FineTreatment.co.uk

Fine Treatment provides natural solutions to certain lasting health problems, for which no other conventional or complementary therapies - equally effective and safe - exist.

Fine Treatment offers a unique, effective and completely natural Thermobalancing Therapy for various internal health disorders. Enabled by Dr Allen's devices, the Thermobalancing Therapy has no adverse side effects. Specially designed, Dr Allen's Devices are comfortable to wear and do not affect the day-to-day activities of their users. Dr Allen's Devices are non-surgical and non-invasive.

• Dr Allen's Device for Prostate treatment for Benign Prostatic Hyperplasia (BPH) and Chronic Prostatitis, including chronic pelvic pain syndrome (CPPS). The Device helps to protect men from injurious surgeries, and improves libido and erectile dysfunctions.

• Dr Allen's Device for Sciatica treatment and Lower Back care provides quick and lasting pain relief effect and eases the feeling of discomfort while walking or standing. The Device safeguards its users from harmful medications.

• Dr Allen's Device for Kidney Care is an extraordinary device which dissolves all types of kidney stones, eliminates the pain and removes the need for damaging surgery or ultrasonic lithotripsy procedures.

• Dr Allen's Device for Lower Vertebrae Care helps to treat intervertebral discs problems in the lower spine area, helps to restore movement and relives pain without restoring to medications or surgery.

Dr Allen's Devices can also be used for preventive purposes.

Unlike other complementary therapies, the Thermobalancing Therapy has a solid scientific background. Dr Allen has developed the therapy on the basis of his breakthrough medical research, which is summarised as The Origin of Health Disorders. The research findings clarify how various internal diseases emerge and develop that has previously been impossible to explain.

The medical discovery related to the origination of chronic diseases has enabled the creation of these unique therapeutic devices, which treat the causes of health disorders, not just their symptoms, and thus give unparalleled results.
Status

Private Company
Company History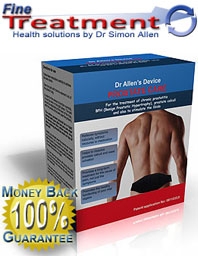 Fine Treatment is established by Dr Simon Allen, who strives to improve the lives of people affected by lasting health disorders.

Dr Simon Allen is a highly experienced medical professional, with over 30 years of work experience in clinical medicine. He obtained a PhD in Medicine in 1978. For over 14 years, he worked at and subsequently headed a hospital's cardio-vascular department, and treated patients with renal diseases. By the age of 35, he had authored over 50 scientific articles on metabolic disorders, including those linked to obesity, kidney, cardio-vascular and gastroenterological diseases. He lectured medical doctors pursuing higher medical qualifications. He then devoted nearly two decades to further medical research into various internal diseases.

Dr Allen is the author of The Origin of Health Disorders and the inventor of new devices which provide the Thermobalancing Therapy. Neither conventional nor alternative medicines offer a similar approach to the treatment of various medical conditions.

In essence, Dr Allen's breakthrough research findings show that most chronic health disorders are caused by certain processes at the capillary level, leading to angiogenesis. This growth of the tissue increases the pressure inside the organ impairing its proper functioning. The increased pressure inside the affected organ is the actual cause of its disease. Dr Allen's discovery of a physical factor as the primary cause of an organ's disorder is totally original. This medical discovery has enabled the creation of unique Dr Allen's Devices that target the actual causes of disorders, not simply their symptoms.

Dr Allen's Devices are available worldwide exclusively from Fine Treatment in London, UK: www.finetreatment.co.uk