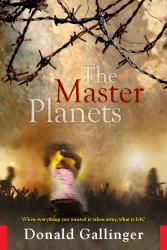 Somers Point, NJ, August 22, 2008 --(
PR.com
)--
The Master Planets
, a debut novel by Donald Gallinger, is receiving early words of acclaim from the literary community.
Ted Chapin, author and Chairman the Board of the American Theatre Wing says: "Donald Gallinger has written a remarkable book… a brilliant novel of humor, suspense, music, history—and family… a whirlwind ride in which we see extraordinary connections made between seemingly disparate worlds. It's a dazzler!"
Booklist calls the book "a sleek, absorbing narrative... an unusual plot given bravura treatment."
Award-winning author Thomas Perry says: "The Master Planets is a magnificent, mysterious book…. I wish it had been less unforgettable, so I could sit down and read it again."
The Master Planets tells the story of Peter Jameson, an exuberant, musically gifted 19-year old in 1970s suburban New Jersey, whose life falls apart when he—and the world—learn about his mother's secret past in German-occupied Poland. After surviving a mass execution of her village, she became a uniquely savage partisan fighter. Hundreds—guilty and innocent alike—died by her hand while hundreds of others lived, all in a random, gruesome lottery of resistance. Thirty years later, her actions once again take their toll on her American family, and, ultimately, on the man that Peter becomes. The book forces us to ask at what point self-defense becomes indefensible, the victim becomes the perpetrator. Can we fight against monstrosity while keeping in check the monster within? And finally: How, after experiencing the world's brutality, does the human heart find its way back to peace?
Told through decade-spanning flashbacks and witty, superbly crafted prose, The Master Planets is both an action-based story and a meditation on the ultimate costs of violence and revenge. It is sure to excite controversy, and likely to become one of the most talked-about literary offerings of 2008.
Published by Kunati Books (2008 recipient of ForeWord Magazine's "Independent Publisher of the Year" award), The Master Planets will be released September 1.
###