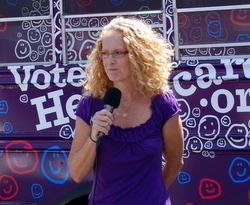 Columbus, OH, August 26, 2008 --(
PR.com
)-- Atlanta mom and attorney Kathie McClure and the VoteHealthcare.org Bandwagon are rolling through Columbus, Athens, Dayton and Toledo this week as part of a National Tour to raise awareness about the millions of Americans who are struggling to find affordable health care. Ohio is the seventh state Kathie has visited since leaving Atlanta on July 13th.
"I have spoken with thousands of working Americans who are telling me that health care is beyond their reach, and health insurance companies have too much control over our system. People are suffering, and they want change now," Kathie said.
This morning, the Bandwagon was up front and center at the Statehouse for the kick-off of Ohio Consumers for Health Coverage's "Fix-It Now! Campaign, which urges Ohio lawmakers and the Governor to make fixing the healthcare system a priority.
Upcoming Ohio events will include a public educational forum on August 28th co-sponsored by the American Medical Students Association at the Boonshoft Medical School at Wright State University in Dayton, a stop at the Athens Farmers Market on August 27th, and participation in the Toledo Labor Day Parade with Toledo Jobs with Justice and Interfaith Workers Justice.
Kathie and her family learned about the holes in our health care system the hard way. Her son, Chris, has Type 1 diabetes, and her daughter, Caitlin, has epilepsy. When Chris and Caitlin reached their 20's, the family found it next to impossible to find affordable individual coverage because insurers don't want to sell individual policies to those with "pre-existing conditions."
Kathie decided that the best way she could make a difference was by telling her story, but she needed a soap box. So her husband, Jay, bought a little school bus on Ebay and spent the last year fixing it up so Kathie could hit the road. That's how VoteHealthcare.org got started.
VoteHealthcare.org is a nonpartisan, nonprofit 501(c)(3) tax exempt organization that promotes quality, affordable healthcare for all US residents through citizen education and voter registration. "Our goal is to educate voters so that they can be informed participants in the national debate," Kathie said.
For additional details concerning Bandwagon Tour events, go to http://www.votehealthcare.org/bandwagon.aspx.
Contact: Kathie McClure
Cell: (404) 660-7475
Email: Kathie@votehealthcare.org
www.votehealthcare.org
###