A Sci-Fi Suspense Thriller About a High-Ranking Government Official Who Has Been in Contact with Aliens All His Life
Arkwatch holdings LLC has published a new novel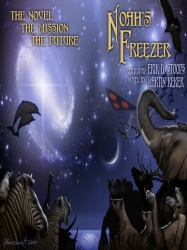 Cave Creek, AZ, August 31, 2008 --(
PR.com
)-- "Noah's Freezer" is a science fiction suspense thriller about a high ranking government official saving endangered animals at a time of environmental crisis when he confronts a danger to himself and the entire planet. He has to reveal his lifelong contact with aliens in order to help humankind understand a strange ET device that can alter the consciousness of people who enter it—a revelation which places him and his loved ones in great danger. It's a book with tremendous film potential in the spirit of 2001, A Space Odyssey, Close Encounters of The Third Kind, and Independence Day.
The planet is threatened with global warming and other ecological hazards, as Daniel and his partner Adrian, battle to save rare and endangered animals—while a fearless Boston psychiatrist, Ted Lawrence, helps him cope with an alien strangeness that surrounds him. His girl friend is Christine, who is a Space Center scientist, whose special robot mission is preparing to go below the ice of Europa—one of Jupiter's moons—to look for primitive life. Daniel fights for the earth and environment—the primary battle of our time, as his friends try to understand his relationship with a highly evolved space woman named Sehkmet.
When extraterrestrials have placed an object near earth—a strange, enigmatic orb that can alter human consciousness—sinister government operatives attempt to keep this a secret from the world. Will the secret government agents break Daniel with torture and water boarding to gain the upper hand? Will they kidnap Christine to silence her so she cannot tell her story, and complete her destiny? Will mankind's place in the universe be forever changed? Who will win the battle of opposing forces? Or will spirituality and a different way thinking come over mankind for the good of mother earth? The novel is very timely with today's current events, and what may happen, in a prophetic way in the future.
Martin Reker, a teacher of writing and a first time novelist, has teamed up with Erik D Stoops a best selling Author who created the concept of Noah's freezer. They both crafted this concept and novel with an eye on contemporary eco-problems taken to year 2016, a turbulent time of successes and failures, where the UFO question intrudes into this 'Brave New World' world in an unexpected and compelling way.
Already under the close scrutiny by many movie professionals, this potential sci-fi classic will almost assuredly have an impact on both reading and movie audiences. Arkwatch Holdings LLC is the publisher of this new exciting novel. Arkwatch Holdings is publisher, and motion picture and tv production firm. The firm is owned by Erik D Stoops
To schedule an interview with the author or to enquire about the domestic or foreign rights of this intellectual properties please contact Ark watch Holdings LLC arkwatchholdingsLLC@hotmail.com or to purchase copies of the novel please see this web site http://lulu.com/content13824381 or go to Erik Stoop's Storefront on lulu.com
###
Contact
Arkwatch Holdings LLC
Erik D Stoops
480-563-0995
arkwatch.com

Contact