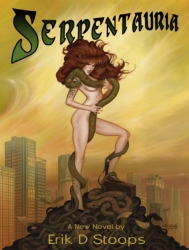 Cave Creek, AZ, August 31, 2008 --(
PR.com
)-- Serpentauria is a suspense thriller novel set in the American Southwest in which the bodies of healthy men found in the desert lead to a Russian art dealer, who is a snake lover testing out a deadly toxin to be used in political assassinations on these victims. It is a novel with strong film potential, in the spirit of films like The Bourne Identity, Inside Man and The Usual Suspects.
Here's a brief summary of the plot. When the bodies of healthy men begin to show up dead in Arizona, the sheriff and his ace detective find enough evidence to interest the FBI. Soon the trail leads to a beautiful Russian émigré, Marina Dubchov, who runs an art business from her palatial desert home, and is a snake lover, who has been developing an untraceable toxin from snake venom that is perfect for political assassinations.
As the investigation proceeds, she seduces both FBI investigators, Wayne Dancer and Julie Anderson, and after the Secretary of Homeland Security dies in Mexico, the investigation leads Wayne and Julie to Marina's hometown in St. Petersburg. Though they capture her after a deadly shootout at a lakeside dacha, complications develop as they try to return her to the U.S. and they begin to suspect that the poison is intended to be used on the U.S. President. However, it isn't clear whether she is really a patriot helping the FBI or an evil scientist out to support Mother Russia and destroy the American way of life. It's an investigation that tests the loyalties of the two investigators, as they develop feelings for each other while trying to break up an assassination plot.
Meanwhile, as more people continue to die, the investigation raises a number of questions? Is Marina an evil murdering art dealer? What are her true motives? Is she seeking political leverage for a country? Global Security for a region? What is at stake and who has the upper hand? The novel is especially timely in light of the increasing conflicts between the U.S. and Russia under Putin and his chose protégée. B Arkwatch holdings is proud to have this new novel out for release.
Says Owner and author of the novel Erik D Stoops, This project is going to be a cult classic.
To schedule an interview with the author or to inquire about the domestic or foreign rights of this intellectual properties please contact Ark watch Holdings LLC or to purchase copies of the novel please see this web site
http://www.lulu.com/content/3821518
go to Erik Stoop's Storefront on lulu.com.
###