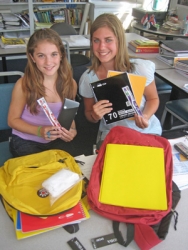 Gladstone, NJ, September 10, 2008 --(
PR.com
)-- Alexis Grieco and Hayley Diverio (right to left in photo) are working hard so that dozens of children in Kenyan slum schools will celebrate the start of their school year with a back-to-school gift from charitable Gill St. Bernard's students.
The two Gill St. Bernard's sophomores, heard about a New Jersey non-profit, the Global Literacy Project, Inc. (GLP), working to help children from the poorest of families in Kenya.
Taking a look at the pictures from various GLP schools supported in Kenya, Alexis and Hayley were struck by the dozens of joyful faces that they saw. The GLP volunteers visited with students coming from absolutely poverty level conditions who were attending schools with the most minimal of resources, yet, so many children had smiles on their faces. The highlight of the kids' day -- school.
Their most prized possession – pencils. Often the children were wearing the pencils around their necks for safe-keeping because there weren't enough to go around in the school.
That's why Alexis and Hayley decided to help by supporting the "Backpacks for Kids" initiative and conducting a book drive. They spent the latter part of their summer collecting books and supplies from their school mates and packing them into backpacks. They then reached out to businesses for support to ship the materials. Fred Curatolo of CRC Insurance Services received one of their letters and surprised them with enough funds to send out enough backpacks for an entire kindergarten school in Kenya.
In Kibera, many children cannot attend school because they lack basic school supplies. The school and health kits provide recipient children with important school and health supplies, allowing them to attend classes and maintain proper hygiene.
"With literacy these children, living in the middle of East Africa's largest slum, next to a dump, will grow up into adults who can take control of their lives and take advantage of healthcare and educational opportunities," said Denniston Bonadie, Vice President of Program Development at the Global Literacy Project. "Through this activity, American students learn a powerful lesson about how change is possible through each individual's effort.
Alexis and Hayley sent off enough materials for one entire kindergarten and on International Literacy Day, they started a campaign to educate more of their peers at Gill St. Bernard's about the need for literacy and health supplies. The response from their peers has already been so positive that expect to collect enough books (over 2000 so far) to create functional libraries for several schools.
They also hope to expand the "Backpacks for Kids" campaign to support the other three kindergartens that GLP is working with in the Kibera slums.
For further information, please call Amy Mai Tierney, Diversity Coordinator at Gill St. Bernard's School at 908- 234-1611 ext 202 or email atierney@gsbschool.org.
About The Global Literacy Project, Inc. (http://glpinc.org/)
The Global Literacy Project, Inc. is a non-profit organization that fosters community-based learning initiatives throughout the world by bringing together individuals, institutions and communities to share educational materials and global knowledge and by providing service learning opportunities for students in the USA and abroad.
The Backpacks-for-Kids program provides the basics a child needs to complete a year or more in primary school. Children receiving the backpacks value them greatly, as they contain items that are expensive and hard to find in the areas they support.
###